Image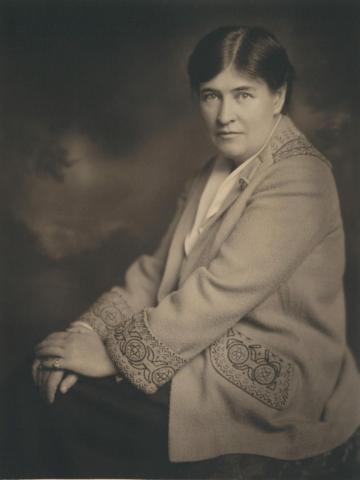 Life & Literature
Willa Cather, 1873–1947
Willa Cather was born in Back Creek Valley, Virginia, in 1873. When Cather was nine years old, her family moved to rural Webster County, Nebraska, and later to the town of Red Cloud, where she lived until attending college at the University of Nebraska.
Cather's career began in Pittsburgh, where she spent a decade working as a journalist and teacher. She later relocated to New York City, and by 1908 was the managing editor at McClure's Magazine. After the publication of her first novel, Alexander's Bridge, Cather left the magazine to focus full-time on her own writing.
In subsequent decades Cather wrote prolifically. Her writing conveyed an intimate understanding of her characters in relation to their personal and cultural environments. While six of Cather's novels were inspired by her Nebraska experiences, her writing spans settings that also include the desert Southwest, seventeenth century Quebec, and the Shenandoah Valley of Virginia, among others. Cather's literature found national and international audiences, eventually being translated into over forty languages.
Widely celebrated for My Ántonia, Cather received the Pulitzer Prize for One of Ours. She won the William Dean Howells Medal for Death Comes for the Archbishop and the Prix Femina Américain for Shadows on the Rock. Cather was the first woman to receive an honorary degree from Princeton, and she appeared on the cover of Time Magazine in 1931. 
Modern readers continue to value Cather's quietly nuanced characters, masterful language, and sensitive explorations of place. Her life and work still inspire insightful scholarly analysis. Willa Cather endures, not only as a "favorite daughter," but as an author who elevated her formative Nebraska experiences into an international literary legacy. 
Cather died in 1947, and was laid to rest in the Old Burying Ground in Jaffrey Center, New Hampshire. Her domestic partner, Edith Lewis, selected her final resting place and designed her tombstone, which features these memorable words from My Ántonia: "that is happiness; to be dissolved into something complete and great."