Image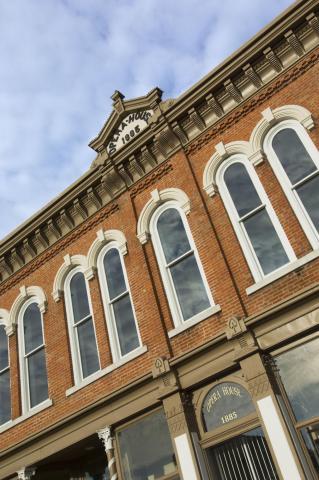 The Foundation
The National Willa Cather Center
The Willa Cather Foundation—formerly the Willa Cather Pioneer Memorial—is a 501(c)(3) not-for-profit organization dedicated to advancing the work of Pulitzer Prize-winning author Willa Cather and preserving the historical settings and archival material associated with her life and writings. Since its founding in 1955, the Foundation has been headquartered in Cather's hometown of rural Red Cloud, Nebraska.
Our Purpose:
To promote and encourage increased understanding and appreciation of the life, times, settings, and work of Willa Cather.
Our Mission:
To enrich lives by advancing Willa Cather's legacy locally and beyond through education, preservation, and the arts.
Our Vision:
People everywhere will find meaning and inspiration in Cather's writing, life, times, and places.
Our Values:
These values guide the decisions and actions of our board, staff, and volunteers.
Creativity: We encourage the presentation and creation of artistic work.
Connection: We connect people through programs and services.
Inclusiveness: We commit to nurturing relationships with individuals and groups of all backgrounds, worldviews, and identities.
Learning: We continuously learn and teach.
Professionalism: We adhere to core professional standards for museums.
Stewardship: We are good stewards of sites, collections, and charitable gifts that are entrusted to us.
Our Core Programs: 
Operation of a museum, archive, and performing arts center at the National Willa Cather Center;
Preservation of the largest collection of nationally designated historic sites devoted to an American author;
Facilitation of research from a large body of archival material related to Cather's life and writing, the Red Cloud and Webster County region, and Homestead-era Nebraska;
Guided tours of historic sites associated with Willa Cather's life and writing, including her childhood home, a National Historic Landmark;
Publication of the Willa Cather Review, a peer-reviewed journal that offers a unique combination of original writing focused on Cather, her influences and times, and the pleasures of her artistry;
Organization of conferences and seminars that generate new research and scholarship;
Presentation of regular programming and arts exhibits in the Red Cloud Opera House, which played a key role in nurturing Willa Cather's own interest in the arts.
Restoration and conservation of the 612-acre Willa Cather Memorial Prairie;
Curation of exhibits featuring artifacts from the Foundation's collections, which include thousands of items that belonged to the Cather family, as well as other period pieces;
Scholarship awards to high school students, graduate students, and high school educators;
Encouragement of and cooperation with other Cather programs and initiatives.
Who We Serve:
The Willa Cather Foundation's programs and resources directly serve more than 60,000 people each year. This includes approximately 8,000 to 10,000 on site visitors from an average of forty states and five countries, as well as over 50,000 individuals served remotely through online resources and publications. Patrons of WCF-sponsored programs represent Cather enthusiasts, scholars, teachers and students, devotees of the arts and humanities, residents of rural Red Cloud and surrounding regions, and cultural heritage tourists.