Volunteer
Image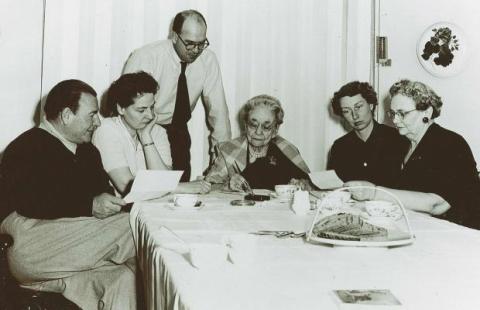 The Willa Cather Foundation was started in 1955 by Mildred R. Bennett and a small group of dedicated volunteers who were committed to preserving and restoring historic properties relevant to the life and works of Willa Cather. Today, the Willa Cather Foundation continues to rely on the invaluable service of dedicated volunteers. Here are some of the ways you can become involved: 
Red Cloud Opera House Volunteers
Do you enjoy arts programming? Join our incredible group of volunteers who make shows at the Red Cloud Opera House go off without a hitch. Tasks include greeting patrons, working concessions and the box office, ushering, taking tickets, and other pre-show activities. If you are interested in working behind the scenes, we also seek volunteers to assist with performance load-in and load-out.
Visitor Information Assistants
Do you enjoy meeting new people? If so, please consider volunteering as a Visitor Information Assistant. Responsibilities include greeting visitors, providing information on tours, giving directions, handing out printed materials, and answering general questions. 
Landscaping Volunteers
Do you enjoy working outdoors and have a green thumb? With 11 historic properties, the Willa Cather Foundation always has planting, weeding, mowing, mulching, and pruning to be done in order to keep our sites beautiful for our visitors. Volunteers will work with Foundation staff to establish a schedule and task list. 
Volunteer Benefits
10% discount on purchases in the bookstore at the National Willa Cather Center
Access to Opera House events
Volunteer orientation and training will be provided by the Willa Cather Foundation staff for all new volunteers. To become a volunteer or learn more about volunteer opportunities with the Willa Cather Foundation, please contact the office at (402) 746-2653 or email info@willacather.org.