Image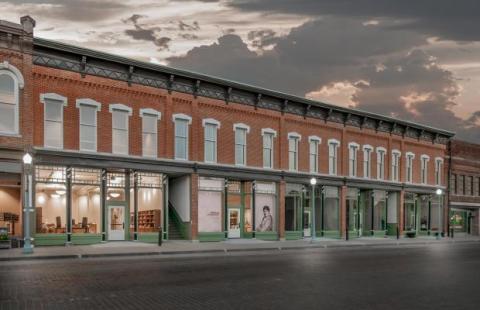 National Willa Cather Center
Walk in Her Footsteps. Stay in Her Town.
Let the National Willa Cather Center be the welcome center and departure point for all aspects of your day trip or a more extended visit to Red Cloud, Nebraska. Historic Red Cloud is home to the largest assembled group of nationally designated historic buildings related to any author in the United States. Your trip provides an opportunity to slow down and unwind in a quiet town of just 1,000 residents.
Only minutes outside of Red Cloud, in all directions, you can experience the beauty of the changing natural world, including farmland and prairie. We are conveniently situated between Interstates I-70 (Kansas) and I-80 (Nebraska), both of which are an hour to our north or south. Our proximity to these transportation gateways makes us close to larger cities — and yet oh so far from your familiar.
While you might consider us "off-the-grid," Red Cloud also offers cultural amenities, comfortable lodging (including where Cather herself once slept), restaurants, a wine bar, a well-stocked locally-owned grocery store (for self-catering or picnics), and excellent connectivity to your world outside.
We can accommodate your specialized group tours, student field trips, small corporate or literary retreats, book clubs, and family gatherings — or reserve a room for yourself and work on your own writing. There is always inspiration in the majesty of the prairie where the land meets the sky. Your visit to the National Willa Cather Center comes with the unique experience of an embrace from small town America, where Willa Cather found inspiration. She once said, "I was always being pulled back into Nebraska." You will be, too.
About the National Willa Cather Center
In 2017, the National Willa Cather Center opened as an arts and cultural center that serves as a living memorial to renowned writer, Willa Cather. Located in Cather's childhood hometown of Red Cloud, Nebraska, the Center provides almost 20,000 square feet of space that includes a public museum, archive, research center, classroom, bookstore, art gallery, and performing arts center. The Center occupies Red Cloud's historic "Moon Block," an 1887 structure that was fully restored and given new life as the National Willa Cather Center.
What you'll experience: