Image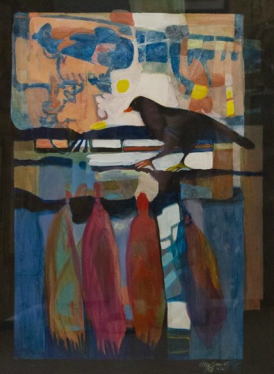 "Best of Nebraska" Association of Nebraska Art Clubs
Red Cloud Opera House
413 North Webster Street
Red Cloud, 68970
United States
The Red Cloud Area Artists as a part of the Association of Nebraska Art Clubs and the Willa Cather Foundation are pleased to display the "Best of Nebraska," a statewide traveling art exhibition, on display at the Red Cloud Opera House from February 13 – March 4. Every year the ANAC state competition selects 25 pieces out of 312 entries to be honored by traveling through Nebraska's galleries. This year was the 52nd annual show.
This year's exhibition boasts a fantastic variety of styles from realistic watercolors to abstract sculpture. The exhibition includes artists from Columbus, Lincoln, Kearney, and Grand Island, to name a few. This year's "Best of Nebraska" is watercolor by Patsy Smith called "Surveying the World".  Every club can enter a third of its membership in the state competition, with only twenty-five artists selected at state for the traveling show. There are 38 clubs involved and 718 members.
Red Cloud-based artists Gwen Lewis and her daughter Christi Lewis are members of the Red Cloud Area Artist group and compete in the state juried show every year. Other members of the Red Cloud Area Artists include Aaron Lewis, Linda Woodward, Amy Springer, Pattie Wall, Jenine Wilhelms, Val and Kim Horne.  Both Gwen and Christi hold leadership positions within the ANAC organization. Gwen is in charge of membership and Christi is a member of the exhibit board.
Display located in the auditorium