Image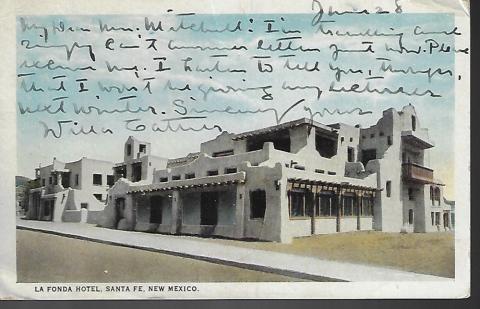 Cather's Santa Fe: A Walking Tour
Join us on the Plaza!
Santa Fe Trail End Marker on the Plaza
Intersection of East San Francisco Street and Old Santa Fe Trail
Santa Fe, NM 87501
United States
As we celebrate Willa Cather's 150th birthday, we journey to Santa Fe to explore one of Cather's favorite cities. Our tour guide, Garrett Peck, will lead us on a 2.5 hour Death Comes for the Archbishop walking tour, retracing Cather's steps through Santa Fe in 1925 and 1926.
We'll gather at the Plaza opposite La Fonda, the hotel where Cather and her partner Edith Lewis stayed during their visits. We'll read from Cather's letters, interviews, and articles, in addition to seeing historic Santa Fe.
Our walking route will cover about 1.5 miles, mostly on sidewalks, but we will also climb a hill to the Cross of the Martyrs with its outstanding view of the city below. During our time together, we'll examine characters in the novel that Cather called her "best book," such as Kit Carson, Padre Antonio José Martinez, and of course, Archbishop Jean-Baptiste Lamy, New Mexico's first Catholic archbishop and the inspiration for the fictional Bishop Latour. We will learn about Sister Blandina Segale who helped to set up a hospital in Lamy's house, and visit the last remnant of Lamy's six-acre garden behind the St. Francis Cathedral in the beautiful Stations of the Cross Prayer Garden.
Following the guided tour, you'll have time to visit the Cathedral on your own before joining the National Willa Cather staff for a drink and small bites nearby, included with your tour registration. This tour is a wonderful addition to our weekend in Taos, if you're already planning to join us in New Mexico.
Be sure to wear good walking shoes, sunscreen, water, and a hat; dressing in layers is suggested for fall weather. Those with balance issues may want to bring hiking poles.
About our guide:
Garrett Peck is an author, historian, and tour guide in Santa Fe. He leads the Willa Cather's Santa Fe walking tour, and is writing a book about Cather wrote Death Comes for the Archbishop. www.garrettpeck.com