Image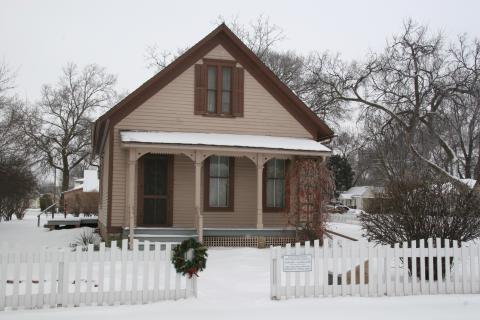 Celebrating Cather at 150: A Guided Holiday Tour
National Willa Cather Center
425 N. Webster St.
Red Cloud, NE 68970
United States
As part of National Willa Cather Center's efforts to commemorate acclaimed novelist Willa Cather's 150th year, we are pleased to invite visitors to enjoy a special holiday tour of National Willa Cather Center historic sites!
Join us on Saturdays throughout the month of December, as well as on Thursday, December 7th, for merry tour that stops at the newly restored Willa Cather Childhood Home, St. Juliana Falconieri Catholic Church, Grace Episcopal Church, and the Farmers and Merchants Bank. 
Your tour ticket includes
A guided tour of four historic sites, each festively decorated for the holiday season
Seasonal readings from Cather's life and letters at each tour stop
Access to Imprinting the West: Manifest Destiny, Real, and Imagined, a traveling exhibit from ExhibitsUSA.
Cookies, cider, and hot chocolate at the conclusion of the tour
A copy of Cather's A Lost Lady, her 1923 novel about a woman who captivates a once bustling railroad town whose residents also grapple with the complicated legacy they will leave on the Great Plains. 
At the conclusion of the tour, visitors are encouraged to walk through American Bittersweet, our permanent Willa Cather exhibit, catch a free short-film Cather's work and its connections to Red Cloud, and browse in our bookstore, all of which are located at the National Willa Cather Center. Bringing a group or book club? Contact Rachel Olsen at rolsen@willacather.org for group pricing options.