Image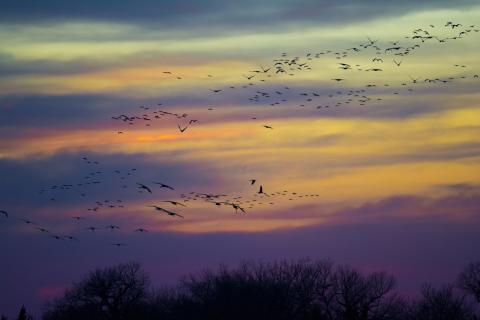 Image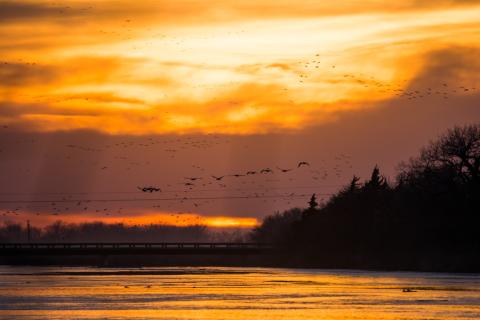 Cranes & Cather: Migration in Life and Literature
National Willa Cather Center
425 N. Webster Street
Red Cloud, NE 68970
United States
Join us Friday, March 19, 2021, at the National Willa Cather Center as we partner with the Willa Cather Archive and the Great Plains Art Museum for a day of Cranes and Cather! This year, we'll feature a cafeteria-style itinerary, with guests joining from near and far!
Willa Cather knew the beauty of her central Nebraska home and depicted this landscape in six of her novels  and many short stories. Our Cranes & Cather event ties the best of today's Great Plains writing with the historic and unique landscape of Cather's written world, and for many, the quintessential Nebraska experience is a trip to the Platte to witness the ancient migration of the Sandhill cranes. This year, our readings will focus on migration and its centrality to our Nebraska lives. Guests may choose virtual or socially distanced in-person experiences, according to their comfort levels, with the Red Cloud Opera House serving as a central way station. Weather permitting, we will travel by caravan to the Platte to experience the cranes live at one of the public viewing areas; the crane blind experience, offered both at dawn and dusk, will be conducted virtually.
We're pleased to feature a poetry reading by Twyla Hansen, former state poet of Nebraska and author of Rock • Tree • Bird, and a short lecture by biologist Larkin Powell, who will discuss his book Great Plains Birds; the readings will be followed by a live Q&A session over Zoom. This year, we're also partnering with the Center for Great Plains Studies and the Great Plains Art Museum, who will offer a virtual gallery experience of Jude Martindale's exhibit, The Great Migration: A Celebration of Sandhill Cranes in Nebraska.
---
Registrants for this event will receive digital access information by March 18, 2021. Registration must be received by March 15, 2021, for all in-person registrations. All times listed are Central time zone.