Image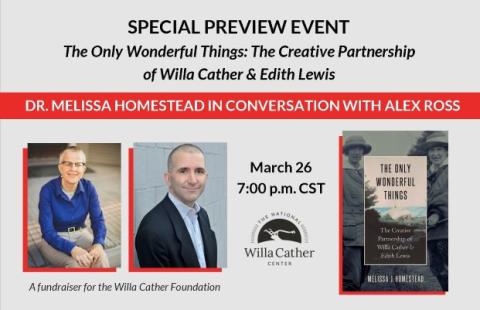 Image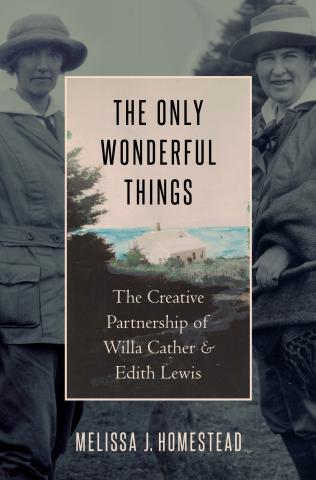 Dr. Melissa J. Homestead in Conversation with Alex Ross
Special Preview Event
The Only Wonderful Things: The Creative Partnership of Willa Cather & Edith Lewis
Dr. Melissa Homestead in Conversation with Alex Ross
Please join us virtually for a highly-anticipated preview event and fundraiser!
Author Melissa J. Homestead and music critic Alex Ross of The New Yorker will discuss her book The Only Wonderful Things: The Creative Partnership of Willa Cather & Edith Lewis, set for release on April 1, 2021. While ample scholarship on Willa Cather's life and writing has emerged since her death in 1947, little attention has been given to Edith Lewis, Cather's partner of nearly forty years. More than a decade of research has culminated in this first thorough study of the life Cather and Lewis shared. From their time in New York City to their travels in the American Southwest that formed the basis of the novels Death Comes for the Archbishop and The Professor's House, Homestead has carefully reconstructed their life together. With a close examination of Edith Lewis at the center of the research, she asserts that Lewis was a creative mind who devotedly worked alongside Cather, as both an editor and collaborator.
This special fundraising event marks the first public discussion of the book. Proceeds from ticket sales will benefit the Willa Cather Foundation's educational programs. Homestead, a member of the Foundation's Board of Governors, and Foundation friend, Alex Ross, are uniting for what is sure to be an enlightening evening. Your ticket purchase, excluding the book price, is tax-deductible and directly supports the Willa Cather Foundation's mission to promote Willa Cather's legacy through education, preservation, and the arts. All virtual events are listed in central standard time, and ticket holders will receive Zoom access via email ahead of the event.
Tax-deductible* ticket options:
$50 Ticket = access to the virtual event
$90 Ticket = access to the virtual event and a copy of the book
$150 Patron Ticket = access to the virtual event, a signed copy of the book, and a 30-minute post-event extended Q&A session with Ross and Homestead
* Note: For $90 and $150 tickets, the value of the book and sales tax ($42.75) is not tax-deductible.
---