Image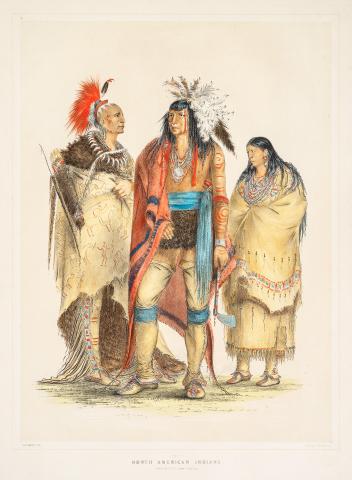 Imprinting the West: Manifest Destiny, Real and Imagined
Westward expansion was one of the most transformational elements in American life throughout the 19th century. Printed imagery played an important role in the dissemination of knowledge and understanding about the West and those who inhabited it. Imprinting the West: Manifest Destiny, Real and Imagined features forty-eight hand-colored engravings and lithographs that explore these depictions and the influence artists had on the perception of the wild west.
In 1803, President Thomas Jefferson purchased the expansive territory known as Louisiana from Napoleon, King of France, a transaction that extended the nation's boundaries by 828,000 square miles, including all of present-day Arkansas, Kansas, Missouri, Iowa, Oklahoma, and parts of Minnesota, North and South Dakota, New Mexico, Texas, Montana, Wyoming, Colorado, and Louisiana. The Louisiana Purchase set the stage for great exploration and discovery, migration, and settlement, in addition to struggle and conflict.
Convinced that God wanted the country to extend to the Pacific coast—an idea called "Manifest Destiny"—scores of American citizens, including painters and printmakers, moved west. The works featured in Imprinting the West explore the potent imagery of the time that shaped how the American Indians and the West were understood.
In this fascinating exhibition, curated by Dr. Randall Griffe at the Metropolitan Museum of Art in New York, visitors to the Red Cloud Opera House can consider the ways that the work of the artist intersects with the goals of an ambitious republic and the older cultures of the continent's indigenous people.
Support for this exhibit at the National Willa Cather Center was made possible with a grant from the Nebraska State Historical Society Foundation.
Image