Image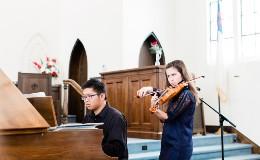 Kevin and Heidi Cheng, Piano-Violin Duo
Red Cloud Opera House
413 N. Webster Street
Red Cloud, 68970
United States
Gifted, engaging, and energetic are just a few of the descriptors that have been used in connection with this classically trained piano-violin duo! The dynamic couple play a range of styles, including popular, country, classical, ragtime, romantic, western, bluegrass, patriotic, and  contemporary and traditional sacred music. Kevin is a native of Taiwan who has organized large-scale orchestral concerts to bring classical music to rural Nebraska. He has performed as guest pianist with Lincoln, Kearney, Sandhills and Cherokee symphonies. Heidi has served as second principal violinist in the Kearney Symphony Orchestra. 
This performance is made possible through the support of the Nebraska Arts Council and the Nebraska Cultural Endowment.
---
Health Precautions: We are following guidelines from the South Heartland District Health Department for Phase IV of the Directed Health Measure. Performances at the Opera House will occur with maximum attendance at 75% of rated occupancy. Most seats will be available in pairs, with a distance of six feet between each group of seats. Face coverings are to be worn at all times while inside the Opera House. Concessions will not be available, but patrons are welcome to bring a water bottle (no glass).