Image
Image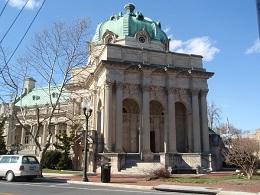 My Ántonia: New Readings for a Centennial Celebration
John Handley Regional Library
100 W Piccadilly St
Winchester, VA 22601
United States
Willa Cather's My Ántonia solidified her growing esteem as a keen observer of the American experience of migration and settlement and as a pioneering artist when it was published in 1918.  It remains a paradigmatic American narrative and continues to invite new and varied interpretations.  This program, to be held at the John Handley Regional Library in Winchester, Virginia, is scheduled for April 7, 2018, at 2 p.m.  "My Ántonia: New Readings for a Centennial Celebration" opens new opportunities for understanding My Ántonia as a product of its times and also an enlightening commentary on the present.  The Friends of the Handley Library will sponsor this event.
Ann Romines (George Washington University, Professor of English, Emerita), editor of the Scholarly Edition of Sapphira and the Slave Girl (2000) and Willa Cather's Southern Connections (2000) will examine the persistence of Virginia in My Ántonia and the meeting of American and European cultures on the prairie.
Col. Max Frazier (ret.) (U.S. Airforce Academy,  Associate Professor of English, retired) is a Cather scholar and member of the Board of Governors of the Willa Cather Foundation. She will focus on the presence of World War I in My Ántonia and the depiction of immigrant populations.  Both programs provide perspectives on culture and identity and the dynamics of confrontation and assimilation among immigrant and American populations.
Finally, Linda Cather, President of the Cather Family Reunion, will join the panel as a respondent and expert on Cather genealogy and migration. John Jacobs (Shenandoah University, Professor of English, Emeritus)  will serve as moderator of the panel.