Image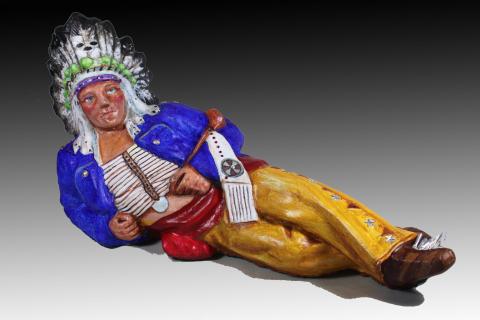 Savages and Princesses
Red Cloud Opera House Art Gallery
413 North Webster Street
Red Cloud, NE 68970
United States
An exhibit reception was held on Saturday, April 13.
Savages and Princesses: The Persistence of Native American Stereotypes will be on display at the Red Cloud Opera House from April 6 to May 23, 2019. The exhibit brings together thirteen Native American contemporary visual artists, with the goal of countering ubiquitous stereotypes. The exhibition explores common Native American stereotypes and utilizes humor, emotion, subtlety, shock, and irony to encourage viewers to question and challenge these falsehoods. The telling is honest and incisive. Images and styles are created from traditional, contemporary, and mass culture forms. The exhibit is a program of ExhibitsUSA, a national division of Mid-America Arts Alliance with Nebraska Arts Council and The National Endowment for the Arts. Support for the exhibit also comes from Humanities Nebraska and Rhonda Seacrest.
Pictured: Juanita Pahdopony, Kitsch Me, I'm Indian! 2016; cast concrete, acrylic, aluminum cones, buckskin, rhinestones, paper, 9 x 27 x 8 inches; Courtesy of the artist.
Concurrent with the exhibit opening on Saturday, April 13, a reading and signing by author Walter Echo-Hawk and a Native American folklore performance by Mahenwahdose were held at the Red Cloud Opera House.