Image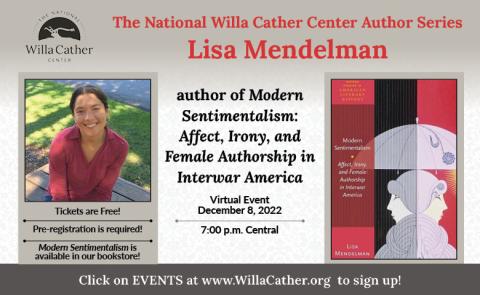 Image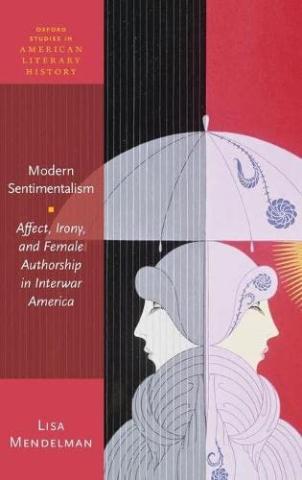 Virtual Author Series: Lisa Mendelman
Learn all about the interplay of sentimentalism and modernism in Willa Cather's work! Menlo College professor Lisa Mendelman will examine Cather's depiction of the modern woman's identity in the early twentieth century via Thea Kronberg in The Song of the Lark, as well as how the sentimental aesthetic operates between individuals and art. Register for the event here. You can also purchase the book from our bookstore.

"The birth of the modern woman has long been imagined as the death of sentimental feeling. Sentimental literary aesthetics have likewise been thought to dissipate as modernism emerges. Modern Sentimentalism redefines these perceptions of American interwar femininity and modern literary innovation. The book demonstrates that sentiment's lived and literary form underwent a vital rebirth, not a slow death, in the early twentieth century. This complex renaissance emerged out of the same cultural and creative turmoil that created modernism: the sentimental functioned as a privileged site where the modernist-era drama over feeling, femininity, female authorship, and literary form played out—a drama wrought in the dynamic armature of female character. Modern sensibility coalesced in, and was in turn challenged by, women who understood themselves to be cultural types in the making. Modern Sentimentalism tells the story of how sentimentalism became modern, and recognizably modernist."
This author series event is made possible by generous donor support as well as the National Endowment for the Humanities (NEH) as part of the American Rescue Plan (ARP) Act of 2021. NEH is committed to Sustaining the Humanities through the American Rescue Plan (SHARP).