Image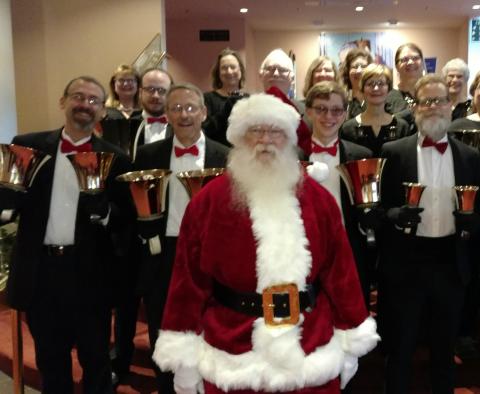 Virtual Bell-issimo
Lincoln's own handbell choir, Bell-issimo, will perform a festive virtual concert of seasonal music, holiday cheer, and glad tidings. Ring in the season from the comfort of your own home with your family! Tickets are $10 and please purchase by NOON on Friday, December 18 in order to receive timely virtual access instructions for the December 19 show.
Or, enjoy the sounds of the season as you celebrate Christmas! A Christmas Encore Performance ticket gives you round-the-clock access on December 24–25, 2020! Sign up by December 23rd!
This year's ringers represent eleven churches from the Lincoln area. Bell-issimo was featured as a Showcase Choir at the Area 8 Handbell Festival in Council Bluffs. They joined the Lincoln Community Concert Band for a Mannheim Steamroller Christmas concert, twice have been a part of Lincoln's community-wide Veterans' Day program at the Church of Latter Day Saints, and participated in a concert celebrating Nebraska's 150th Anniversary in conjunction with the Lincoln Choral Artists and various other Nebraska vocal choirs. Bell-issimo has presented several Pops & Rock Concerts at Vega and the Royal Grove, as well as traditional concerts in Lincoln and various communities throughout Nebraska.
The choir performed as special guests for the Christmas Extravaganza in Bossier City, Louisiana in December 2015, playing with a professional orchestra and performing several solo pieces as well. Bell-issimo has been honored to perform with Lincoln's Symphony Orchestra Christmas Concerts for the past several years. They have performed regularly at St. Paul United Methodist Church for its SPUMMA Concerts. The group was very pleased to be able to be included in the premier performance of "Crane-Dance" along with the Lincoln Early Music Consort and the vocal group Dulces Voces in 2018, written by their own Jean Henderson from a poem by Nebraska's State Poet, Twyla Hansen. The group was featured during the worship service of the Willa Cather Spring Conference in Red Cloud in 2019.
Bell-issimo inspires and promotes the distinctive beauty and uniqueness of handbell ringing through:
Provision of a challenging and rewarding artistic opportunity for skilled ringers
Nurturing of team-mindedness, musicianship, and a passion for handbells in an environment of hospitality and mutual respect
Promotion of the arts through outreach projects and concerts—locally and in the larger community
Collaboration with other musicians, instrumentalists, and vocalists
Exploration of unexpected and interesting musical genres and musical venues to expand awareness and appreciation of the art of handbell music for a broader audience.