Image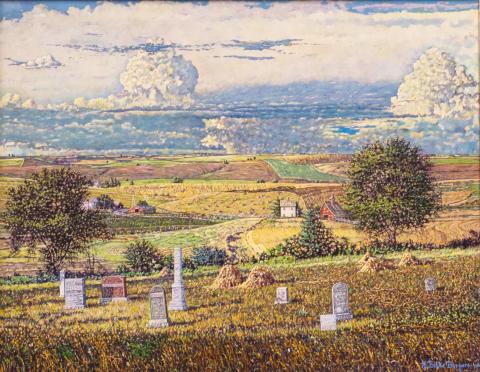 Image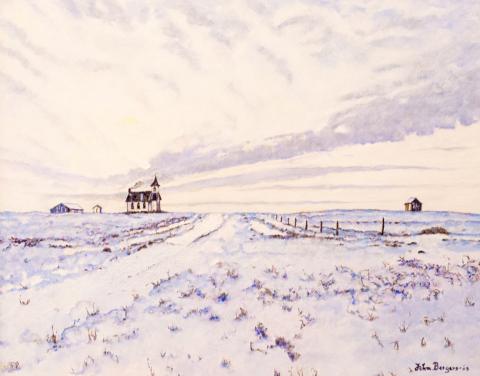 The Visual Narratives of John Blake Bergers
The work of John Blake Bergers returns to our Red Cloud Opera House gallery! Comprised of pieces from our permanent collection, this exhibit features twenty-two of Bergers' best-loved images. All are inspired by the works and world of Willa Cather, but also capture Bergers' own experience of growing up on the Nebraska plains. Inspired by his first readings of Cather's work in 1975 and a later visit to Red Cloud, where he met Mildred Bennett and others involved in preserving Cather's memories, Bergers began a series of paintings meant to preserve on canvas the images that Cather created with language. Bergers called these intersections "visual narratives." Through research for each painting, Bergers brings to life even the smallest detail from Cather's writing and their shared experiences of small-town life on the Plains. Hallmarks of Bergers' oil paintings are their realistic portrayals, their meticulous detail and beautiful tonality. A digital gallery of the exhibit will remain on display.
About the Artist:
John Blake Bergers (1931-2011) was a professional artist who left behind a fifteen-year career in banking to dedicate his life to painting historical and landscape scenes of the Midwest, especially those described so beautifully in the writings of Willa Cather. His collection of Cather works are a part of our permanent art collection here at the National Willa Cather Center. Bergers' deep interest in history led him to restoration work, and he was instrumental in restoring the McPherson Opera House in McPherson, Kansas, as well as to the restoration work at our own Red Cloud Opera House.
Prints of John Blake Bergers works are available at our Gift Shop or our online store!