Image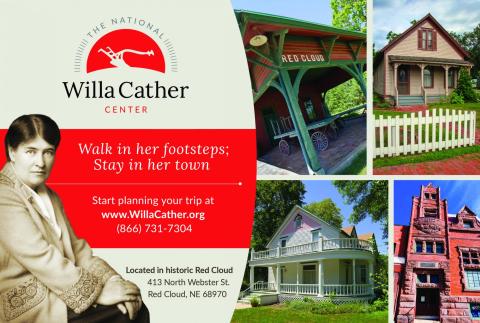 Image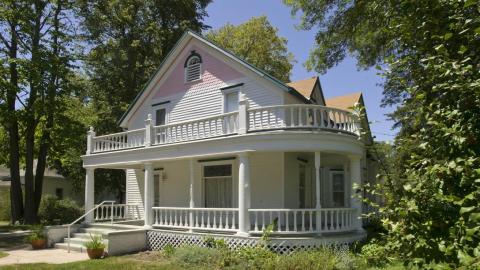 "A Walk in Her Footsteps" Weekend Tour Package
"I am not exaggerating . . . I would rather go home to Red Cloud than to any of the beautiful cities in Europe where I used to love to go." – Willa Cather, 1945
Spend three inspiring days exploring Willa Cather's world and Red Cloud with our newly launched "A Walk In Her Footsteps" weekend tour! The National Willa Cather Center proudly offers a wide range of engaging activities and authentic experiences. From her quaint childhood home to the windswept prairie that memorializes her, visitors of all ages and backgrounds are guaranteed to depart Red Cloud with a fresh idea of Willa Cather and the Great Plains. Come witness the sites and sounds that changed American literature.
Take a detour from the scramble of urbanity and absorb the rolling prairie landscape in Red Cloud, Nebraska: the home of Willa Cather. Upon your arrival, you are immediately immersed in the natural and material world that inspired the Pulitzer Prize winner's influential writings.
❧ Enjoy a tour conducted by our friendly and knowledgeable docents.
❧ See remnants of Cather's childhood that inspired her writing; sit on the historic train station benches at the Burlington Depot; and witness the unbroken prairie that served as the setting in many of her works. With the nation's largest collection of nationally designated historic sites dedicated to an American author, you are certain to enjoy these timeless treasures of Red Cloud.
❧ Cather once remarked, "When I go about among little Nebraska towns (and the little towns, not the big cities, are the people), the thing I miss most is the opera house." Finish your day the Cather way by taking in a performance or cultural event at the historic Opera House in downtown Red Cloud. 
❧ After the curtain is drawn, spend a night in the Cather Second Home guest house or in a beautifully refurbished apartment steps away from the National Willa Cather Center.
This is the perfect time of year to get away to "Cather Country" and there is something for everyone in this immersive and enjoyable respite in our unique prairie town.
Complete weekend packages include the following:
$370 for one guest; $500 for two guests (double occupancy);
Two nights in our Cather Second Home, a host-free guest house (including breakfast);
A VIP tour of our Special Collections & Archives and "American Bittersweet" exhibit;
A guided 7-Building Willa Cather site tour on Friday afternoon;
A guided Country Tour on Saturday morning of rural Cather-related sites in the scenic landscape of Webster County;
A gourmet picnic basket provided from Hometown Market to bring to the Willa Cather Memorial Prairie where you might catch a magnificent prairie sunset, weather-permitting.
Taxes included in package pricing.
Weekend tour packages require 30-days advance booking to plan your perfect weekend.
---
Have questions? Ready to schedule your exclusive visit? Please contact:
Nick Powers at the National Willa Cather Center at npowers@willacather.org or 402-746-2653.
Our office hours are Monday-Friday from 9:00 a.m. to 5:00 p.m.
---