Image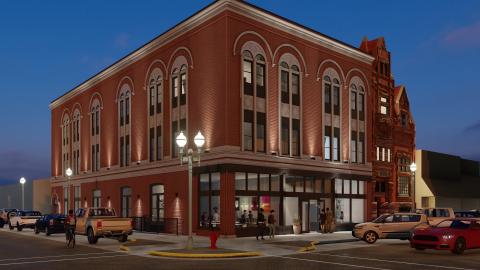 Image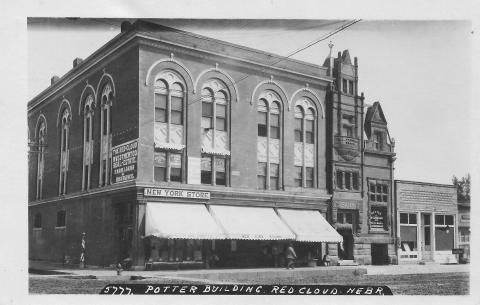 The Potter Block's New Life as Hotel Garber
Redevelopment to Provide Downtown Event Space and Guest Accommodations
Rehabilitation is underway and fundraising in the home stretch for the Potter Block rehabilitation into Hotel Garber. The 1901 structure has been vacant for more than twenty years, and when complete, the rehabilitation project will return the building to its original splendor and increase the space from 16,500 square feet to a 22,500 square foot facility. The design will include a 27-room boutique hotel, meeting space, lounge, catering facilities, and a small library. Decor will serve a decorative and educational purpose, with curated selections featuring historic imagery of Red Cloud through the years. 
The facility will help achieve downtown revitalization goals, and increase tourism development by providing much-needed lodging for guests and expanded meeting facilities for events and retreats. It will allow our visitors to the National Willa Cather Center to stay longer to enjoy the museum, the historic sites, the town, the Cather Prairie, and other scenic places Cather loved. An independent market feasibility study concluded that the market could support an additional 30-room lodging establishment.
Fundraising Goals
The project is a key priority for the National Willa Cather Center's Campaign for the Future and Red Cloud's Heritage Tourism Development Office, which launched in 2015 through a collaboration between the National Willa Cather Center, City of Red Cloud, Chamber of Commerce, and Red Cloud Community Fund (an affiliated fund of the Nebraska Community Foundation). Over $5 million in donations, grants, and investments have been secured. Paired with up to $1 million in Nebraska Historic Tax Credits, total funds secured from all sources is over $6 million.
Fundraising has reached 87% of the $7.3 million goal and you can help bring the fundraising effort to completion by making a charitable gift toward the final $1.02 million. Naming and recognition opportunities are available, and all gifts of $1,000 or more will be recognized on a donor wall.
---
Image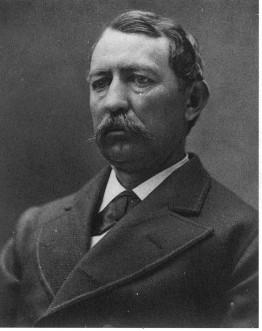 What's in a Name?
The hotel's name is a nod to Silas Garber, a founder of Red Cloud and the third elected Governor of Nebraska. Silas and Lyra Garber were the prototypes for Mrs. and Captain Forrester in Willa Cather's A Lost Lady. When conjoined to the National Willa Cather Center's newly restored Farmers and Merchants Bank next door, the two buildings will share an elevator to provide access to exhibit areas that highlight important milestones in Red Cloud's history, the role of banking and finance in town-building during the late 19th Century, and the Garbers connections to Willa Cather's life and writing.
The new permanent exhibit Making a Place: A Long History of Red Cloud will open in December 2022.
Tax-Deductible Contributions, Pledges, and Securities

Gifts of any and all sizes are welcome through charitable contributions made directly to our project partner, the Willa Cather Foundation, as part of its Campaign for the Future. Gifts to the campaign are tax-deductible, and all gifts designated specifically for this project will be invested by the Willa Cather Foundation into Red Cloud Hotel LLC. Commitments to the campaign are payable over a 5-year period, and can be made in a variety of ways: 

PLEDGE: Make a gift to the campaign, payable in a lump sum, or pledged over a five-year giving period. Payments can be made monthly, quarterly, annually, or structured according to your preferred schedule. You can satisfy your pledge through payments by check, direct deposit, or credit card.

GIFT OF SECURITIES: Gifts of appreciated assets, such as stock with a very low basis, make excellent charitable gifts. By donating your stock, you avoid costly gains and can significantly help this project at the same time. Your stock is gladly accepted as a gift to our campaign. We will be happy to assist you in transferring assets to complete your gift. 
Naming Recognition Opportunities for Charitable Gifts

$250,000

$100,000

Hotel Room (23 available)
Catering Kitchen 

$50,000

Hotel Conference Room & Business Center
Hotel Bar & Breakfast Nook
Hotel Vestibule

$25,000

Hotel Manager's Office
Northeast Entry Stairwell 

$10,000

Back Bar in Lounge
Visitor Information Station 

$5,000

All donations of $1,000 or more will receive recognition on a donor wall inside Hotel Garber. A $2,500 donation will receive recognition on framed artwork and photography displayed throughout the building.
Construction Updates

Phase one of construction is underway. By fall 2023, the third floor will be rebuilt and other exterior improvements will be visible. Planning for this rehabilitation effort began as early as 2018. Basement excavation and underpinning that was completed in 2020 prepared the historic building to support the return of a third floor that was lost to fire in 1961. The final phase of construction is scheduled to be complete in 2024.

Image

August 2023: Crews begin adding a third story back to the building, which was lost to fire in 1961.

Image

August 2023: Restoration begins on the of the facade. The building will be restored to its original 1901 design.
More About The Hotel Experience

This project aligns with our mission to advance Willa Cather's legacy through historic preservation. It will result in the adaptive reuse of a dilapidated downtown building into a 28-room one-of-a-kind hotel. A spacious lounge area on the first floor will be visible from the intersections of Highways 281 and 136, adding life and vibrancy to downtown Red Cloud. A street-level stairwell will be restored for basement entry into a modern meeting space that can accommodate more than sixty guests. 

Memorable guest rooms will spotlight artwork featuring historic Red Cloud, while the public areas will exhibit objects from the town's rich history. Additional space in the lower level will accommodate expanded meeting and event space. 
Project Partners and Collaborators:
Image