Image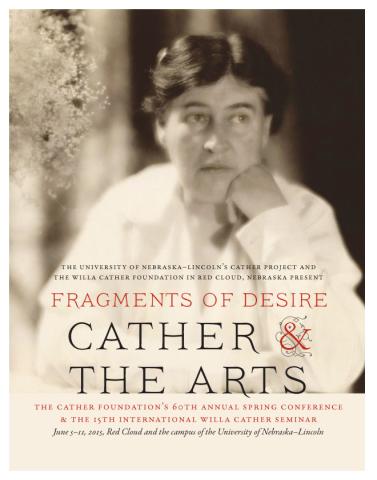 2015 Willa Cather International Seminar
15th International Cather Seminar to be held in Nebraska
Willa Cather is one of the most important American novelists of the first half of the 20th century. In the centenary year of Cather's third novel, The Song of the Lark, more than seventy scholars and students from over twenty-one states and five countries will participate in the 15th International Cather Seminar on "Cather and the Arts" being held June 5–12, 2015.
The seminar will be based in the two prominent places of Cather's Nebraska experience—Red Cloud and Lincoln. Cather spent her early life in Red Cloud and six of her twelve novels are at least partially set there. Her years in Lincoln were spent attending school, working as a critic for the local and university newspapers, and taking her first steps as a writer.
Organized by the Willa Cather Foundation and the University of Nebraska-Lincoln's Cather Project, the seminar will focus on Cather in her interdisciplinary contexts, including theater, music, and the visual arts.
In addition to paper sessions and panel discussions, the seminar will offer unique opportunities for the public to engage in the event. Jules Breton's painting, The Song of the Lark, an inspiration for the novel of that name will be on display at the University's renowned Sheldon Art Museum as part of an exhibition titled "Cather and the Visual." Author Terese Svoboda and historian Richard Norton Smith will each give a keynote address, and a program entitled "The Fine Things of Youth: Words and Music from Willa Cather's Lucy Gayheart," will be held on the seminar's final evening.
Founded in 1955 and headquartered in Red Cloud, the Willa Cather Foundation is a 501(c)(3) not-for-profit organization dedicated to promoting the legacy of Pulitzer Prize-winning author Willa Cather through education, historic preservation, and the arts.
The University of Nebraska Lincoln's Cather Project is a team of scholars dedicated to editing Cather's texts, running seminars and other events, and producing Cather Studies.
The first International Cather Seminar was held in 1973, and the event has taken place biennially since 1993 in locations across the United States and internationally. The 16th International Cather Seminar will be held in Pittsburgh, Pennsylvania, in 2017. For more information, visit www.WillaCather.org, www.cather.unl.edu, or call toll-free 866-731-7304.