Image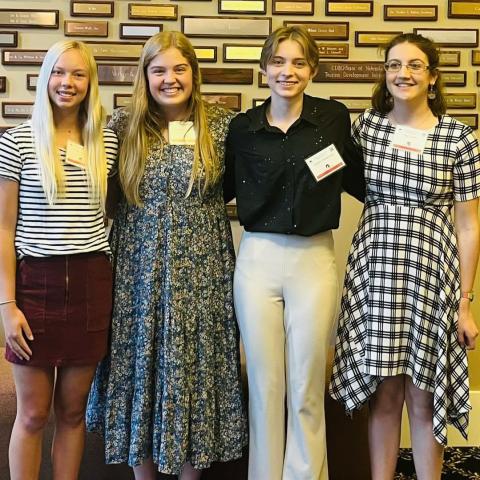 2023 High School Scholarship Awards Enable Pursuit of Humanities Degrees
Awarded at our 68th annual Willa Cather Spring Conference
On Friday, June 2, we awarded and celebrated our 2023 recipients of the Norma Ross Walter, Ántonia, Antonette Willa Skupa Turner, and National Willa Cather Center scholarships. Six students presented their winning essays at the 68th annual Willa Cather Spring Conference, followed by a Q&A session with conference participants. 
The Norma Ross Walter Scholarship winners are:  Ella Gaskill (Lincoln Southeast High School); runner up, Ava Hoffschneider (Pius X High School); and second runner up, Trinity Houchin (Minden High School). 
This year's Ántonia Scholarship winner is Campbell Collins (Collins Homeschool). The Antonette Willa Skupa Turner Scholarship winner is Autumn Wissenburg (Milford High School). The National Willa Cather Center Scholarship winner is Brooks Armstrong (Red Cloud High School)
Norma Ross Walter was a frequent visitor to Red Cloud and lifelong Cather fan. The scholarship established by her ample bequest supports young women seeking higher education. Antonette Turner generously established both the eponymous Antonette Willa Skupa Turner scholarship and the Ántonia scholarship, named after the celebrated Willa Cather character inspired by Turner's grandmother, Anna Pavelka. Created by Jack Wilson in memory of his parents, the Leslie A. and Helen R. Wilson Scholarship assists Webster County students pursuing secondary education or agricultural degrees.
The National Willa Cather Center Scholarship was established in 2023 through voluntary contributions by our Board of Governors to support a graduate of the local high school. Cather herself was a graduate of Red Cloud High School. While she never returned to live in Red Cloud permanently after college, we hope recipients of this award will maintain a life-long interest and appreciation for their hometown, just as Cather did.
Scholarships awarded through the Willa Cather Foundation since 1987 total more than $200,000 and have assisted more than eighty students pursuing a higher education degree.
---
For more information about our scholarship funds, please contact director of education and engagement Rachel Olsen at rolsen@willacather.org or visit this link. Application information for 2024 is available at www.willacather.org and annual deadlines are January 31, February 28, and April 20.