Image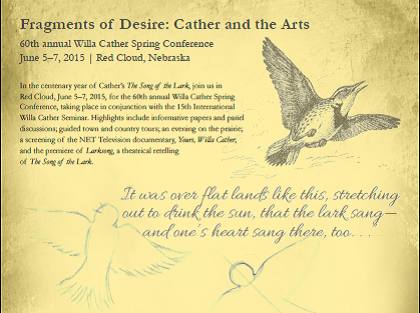 60th Annual Spring Conference to be held in Red Cloud
Nationally recognized historian Richard Norton Smith will deliver a keynote address at the 60th annual Spring Conference June 5-7, 2015, celebrating groundbreaking of the National Willa Cather Center, the Willa Cather Foundation's 60th year, and the publication centenary of Willa Cather's third novel, The Song of the Lark. "Fragments of Desire: Cather and the Arts" will focus on the novel and on the arts that influenced Cather's writing.
Richard Norton Smith is an author, historian, and a familiar face to viewers of C-SPAN and PBS' NewsHour He is a past director of the Herbert Hoover, Dwight D. Eisenhower, Ronald Reagan, and Gerald R. Ford Presidential Museums, as well as a founding director of the Abraham Lincoln Presidential Library and Museum. In 2001, he appeared in Red Cloud for C-SPAN's live broadcast of American Writers.
The conference will also feature papers and panel discussions; guided town and country tours; an evening wildflower walk on the Cather Prairie; the premiere of the NET Television documentary, Yours, Willa Cather; an Opera House performance of Lark/Song, a theatrical retelling of The Song of the Lark; and folk music by Daniel Martinez at the Nebraska State Historical Society's Burlington Depot.
The Regionalist Works of Grant Reynard, organized by the Museum of Nebraska Art and featuring the work of one of Nebraska's most well-known artists, will be on exhibit throughout the conference. Also on view will be The Song and the Spark by Elysia Mann and The Growth of an Artist: Commemorating 100 Years of The Song of the Lark, a collaborative exhibit inspired by the novel and showcasing the work of local and regional artists.
Founded in 1955 and headquartered in Red Cloud, the Willa Cather Foundation is a 501(c)(3) not-for-profit organization dedicated to promoting the legacy of Pulitzer Prize-winning author Willa Cather through education, historic preservation, and the arts.
The conference keynote, select panel discussions, and all exhibits are free and open to the public through the support of Humanities Nebraska, the Nebraska Arts Council, and the Nebraska Cultural Endowment. For more information, visit www.WillaCather.org or call toll-free 866-731-7304.