Image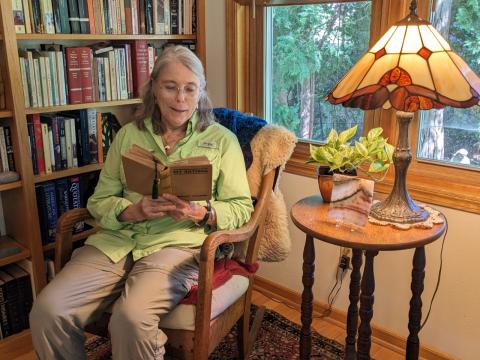 Image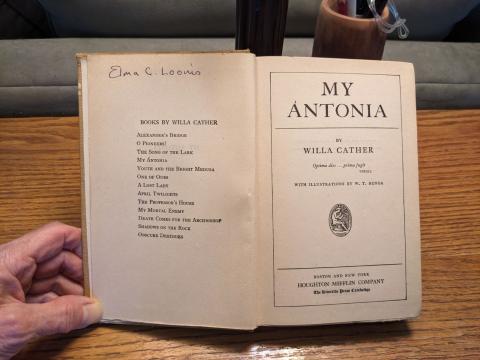 Abbie Loomis looks to protect Cather sites that offer profound understanding of the immigrant experience
Abbie Loomis was thirteen years old when she discovered Willa Cather. Her mother was a voracious reader, and My Ántonia was among the Cather books on her shelf the day Loomis went searching for something to read. Since then she's continued to read Cather, but it's My Ántonia that she revisits every few years. 
"Once I found Willa Cather, and as I got older, I realized wow, she wrote a lot of books," Loomis said. "When you're in high school you just read a book and think, oh that's a good book, I love it; you don't realize there are probably a whole lot more written by the same author. I'm reading it again and noticing things I didn't notice before. And it's interesting because our perspective changes as we get older."
Loomis holds degrees in Education from Northern Illinois University, but it was while working on a PhD in Victorian Literature that she took a job in the library and discovered her passion for librarianship. 
"There weren't a whole lot of jobs at that time in Victorian literature and academia, so I got my MLS and eventually ended up here at the University of Wisconsin Madison as a coordinator for library instruction."
Loomis' career may have been centered around library resources, but she believes that seeing history come to life past the pages of books is just as important for historical understanding, which is why she is committed to the long-term preservation and maintenance of the Pavelka Farmstead in Webster County. Anna Pavelka was the inspiration for Ántonia Shimerda, arguably Willa Cather's most famous character and the namesake for her 1918 novel, My Ántonia.
"You can see it now, the children flying out of the cellar, and that's just such a classic scene," Loomis said. "But when I first saw it during my visits to Nebraska with my husband and children, half the lumber was all shredded and the house was kind of sagging. It was a sadness because the house was one of the real evidences of what it must have been like to live out there at that time."
Restoration of the Pavelka Farmstead was one of key components of the Campaign for the Future, and while Loomis has not seen the updated site in person, she is grateful for all that was done to ensure that the stories of immigrants like Anna Pavelka are shared for generations to come.
Since 2020, the site has undergone significant historic and structural restoration. Major efforts—including returning the farmhouse to a floorplan from the period the Pavelka family occupied the home.—as well as accessibility and landscape improvements. New interpretive exhibits are planned for the location, as well.
"I want visitors to be able to stand in their [the Pavelka family] shoes—to engage with exhibits that are real enough that they can empathize with the individuals," Loomis said, of future hopes for the property. "What would it be like to have your kitchen table overflowing with vegetables for canning, and know that  means you'll have food all winter. I want them to feel that and not to just think about it as some out-there story. History doesn't mean much to a lot of people right now, and I think it's important to make history come alive for people."
This work of the Foundation is of vital importance to Loomis, who allocated a multi-year campaign pledge to the Pavelka Farmstead rehabilitation project, and then joined the Cather Legacy Society to support future maintenance at the site through a planned gift.
"I know Cather has her city and southwest books, but her power is in making the immigrant and pioneer experience come alive in a way that just reading about people from Bohemia who moved to Nebraka wouldn't do."
Loomis says one of Cather's greatest strengths is her ability to write about characters, places, and experiences that resonate with people as much today as when her books were published a century ago. Perhaps that's why Loomis is reading her mother's copy of My Ántonia once again, and still finding it awe-inspiring all these decades later.
---
If you would like additional information about the Cather Legacy Society, or if you have named the Willa Cather Foundation as a beneficiary in your estate plans, please contact Jeniffer Beahm, Development Associate, at jbeahm@willacather.org.