Image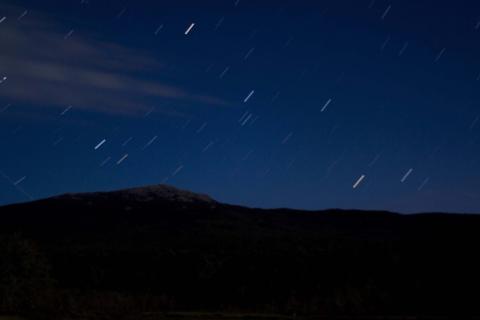 Image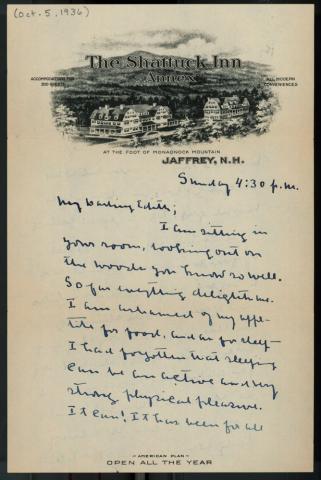 "And now I must dress to receive the Planets, dear"—Willa Cather, Edith Lewis, Jupiter & Venus
Willa Cather's only known letter to her partner Edith Lewis, written October 4, 1936, is in the Willa Cather Foundation Collections & Archives at the National Willa Cather Center and arguably one of our more precious pieces of her correspondence. It is also an exquisite love letter—not only to Lewis, who was working in New York when Cather was at the Shattuck Inn in Jaffrey, New Hampshire, but to all of the stars and heavens from Cather's window—specifically to Jupiter and Venus. Overlooking Mount Monadnock to the west and the lower Gap Mountain to its left, Cather's third floor rooms allowed witness to the changing pageant of late summer and autumn skies in the clear New England air: glorious sunsets, and the dark night sky amidst a sublime and inspiring backdrop.
With the rare "Christmas Star" event of the alignment of Jupiter and Saturn happening on the Winter Solstice today, December 21, 2020, we wanted to share this beautiful letter with our readers. It is at once philosophical, intimate, and reveals Cather's connection with the natural world around her, and the entire cosmos, wherever she happened to be.
---
Sunday 4:30 p.m.
My Darling Edith;
I am sitting in your room, looking out on the woods you know so well. So far everything delights me. I am ashamed of my appetite for food, and as for sleep—I had forgotten that sleeping can be an active and very strong physical pleasure. It can! It has been for all of three nights. I wake up now and then, saturated with the pleasure of breathing clear mountain air (not cold, just chill air) of being up high with all the woods below me sleeping, too; in still white moonlight. It's a grand feeling.
One hour from now, out of your window, I shall see a sight unparalleled—Jupiter and Venus both shining in the golden-rosy sky and both in the West; she not very far above the horizon, and he about mid-way between the zenith and the silvery lady planet. From 5:30 to 6:30 they are of a superb splendor—deepening in color every second, in a still-daylight-sky guiltless of other stars, and the moon not up and the sun gone down behind Gap-mountain; those two above in the whole vault of heaven. It lasts so about an hour (did last night). Then the Lady, so silvery still, slips down into the clear rose colored glow to be near the departed sun, and imperial Jupiter hangs there alone. He goes down about 8:30. Surely it reminds one of Dante's "eternal wheels". I can't but believe that all that majesty and all that beauty, those fated and unfailing appearances and exits, are something more than mathematics and horrible temperatures. If they are not, then we are the only wonderful things—because we can wonder.
I have worn my white silk suit almost constantly with no white hat, which is very awkward. By next week it will probably be colder. Everything you packed carried wonderfully—not a wrinkle.
And now I must dress to receive the Planets, dear, as I won't wish to take the time after they appear—and they will not wait for anybody.
Lovingly,
W.
I don't know when I have enjoyed Jupiter so much as this summer.