Image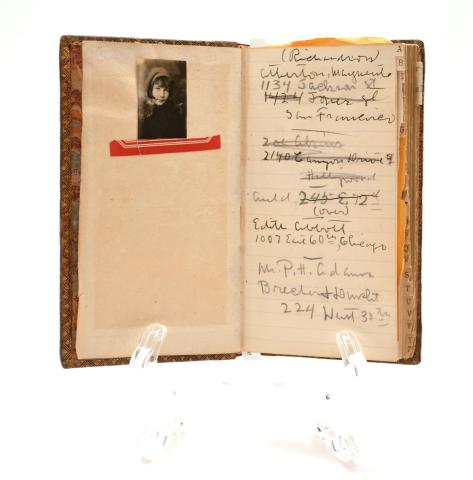 Annotations from the Archive: Cather's Address Book
Archival intern Chris Wolak took a deep dive into Willa Cather's world in the Fall 2022 semester, when she transcribed Willa Cather's address book. The small (approximately 3" x 5" ) leather-bound address book, which is undated, was likely started in the late 1920s, based on the entries included. The addresses are predominantly written on the tabbed alphabetical pages. A few addresses are printed ephemera or handwritten on slips of loose paper, some of which are glued, taped or occasionally pinned on with sewing pins! From sleep aids to investment bankers, social reformers to socialites, Cather's address book gives us a glimpse into her richly varied life at the height of her fame.
Analysis of just a few pages demonstrates the diversity of her connections. For example, George Arliss, the first British Academy Award winner (for his work in 1929's Disraeli), is mentioned by Cather in a 1909 letter to Zoë Akins. "I still feel a good deal of interest in George Arliss," Cather wrote when Arliss was still a theater actor, "but for the most part the work that is being done on the stage just now does not happen to be the sort that I can get any satisfaction from." Later, Cather became acquainted with Arliss and noted that he stayed at the Hotel Fairfax "when in New York," just a nine-minute walk from Cather's Park Avenue home. The Fairfax was a well-known address in the society and arts pages of the New York papers. Mine owners, industry magnates, and society wives and mistresses—as well as actors—all called the Fairfax their temporary home. Akins herself, who wrote for both the stage and movies (including 1936's Camille starring Oscar winner Greta Garbo), was a further connection to that theatrical world. Underneath Akins's name in Cather's book (after several changes in address), is that of her husband, Hugo Rumbold, who was a costume and set designer for the theater, an artist, producer, and veteran of two wars.
The very first listing is for Marguerite (Richardson) Atherton, a Red Cloud acquaintance who had gone to school with younger sister Elsie Cather. Atherton later lived in San Francisco, and during Mary Virginia Cather's final illness, Cather visited Atherton and another Red Cloud acquaintance, James Yeiser, in that city. Edith Abbott, originally from nearby Grand Island, is also listed here. After graduating from the University of Nebraska and getting a PhD in Economics from the University of Chicago, Abbott became a social reformer alongside the likes of Jane Addams; as a teacher and later the Dean the School of Social Service Administration, she was influential in setting national policy, particularly Social Security law. Cather and Abbott both received honorary doctorates from the University of Nebraska in 1917.
Manufacturing furriers Brecher & Dursht are also listed on the book's first page, with the name "Mr. P. H. Adams."
Select images are available online through our collection search feature; as part of her coursework, Wolak created a finding aid for the address book, apart from its larger collection, which can be downloaded.
---
Sources
From the National Willa Cather Center:
Willa Cather Address Book from the Betty Kort Collection
From the Zoe Akins Collection at the Huntington Library:
Willa Cather to Zoe Akins, January 27, 1909. Accessed at Complete Letters of Willa Cather, #0151 
From the New York Public Library:
Irma and Paul Milstein Division of United States History, Local History and Genealogy, The New York Public Library. "The Fairfax, a 15-story apartments hotel at 116 East 56th Street" The New York Public Library Digital Collections. 1943. 
From the University of Nebraska:
Willa Cather to Roscoe Cather, June 23, 1917. Roscoe and Meta Cather Collection (MS316), University of Nebraska-Lincoln Libraries, Archives & Special Collections. Accessed at Complete Letters of Willa Cather, #2077. 
Fur Trade Monthly 1920-1922.
From New York Times:
"Hugo Rumbold Attacks Realism in Stage Scenery," December 21, 1913.