Image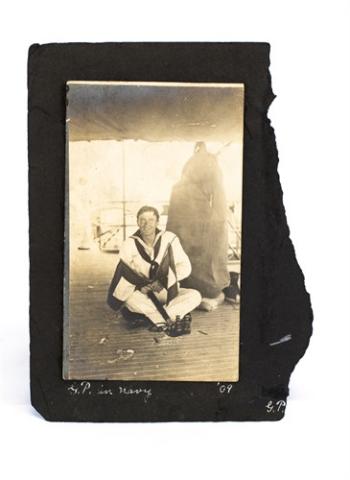 Annotations from the Archive: The Death of G.P. Cather
The centenary of One of Ours, Willa Cather's Pulitzer Prize–winner for fiction, allows us a chance to reflect on the life—and death—of Willa Cather's first cousin, Grosvenor Phillips Cather of nearby Bladen, Nebraska. The entire novel is inspired by real lives and real events, from G.P.'s prewar life and marriage to his final days in France. The collections at the National Willa Cather Center are rich with objects and papers that provide glimpses of that world.
Following his death on May 28, 1918, at the battle for Cantigny, France—one of the American infantry's defining battles—details about the death of Lieutenant Cather were relayed to his wife, Myrtle Bartlett Cather, and his parents, George and Frances Smith Cather. Soldiers who witnessed his death shared their accounts. One of these was Sergeant Emanuel H. Prettyman.
Anne Taylor of the Home Communication Service of the American Red Cross met the wounded and grieving Prettyman in a French hospital in October 1918. Prettyman had served under G. P. Cather at Cantigny, and he saved the orders he had received from Cather prior to that engagement. Later, Prettyman was captured by the enemy more than once, and after escaping, was gassed and finally shot in the right leg as the 26th Infantry engaged in Soissons and moved toward the Saizerais sector. At Taylor's urging, Prettyman and Frances Cather, G. P.'s mother, began a correspondence that detailed G. P.'s death and burial in France, as well as Prettyman's own injuries and readjustment to civilian life.
Like many of the war dead in France, G. P. Cather was interred hastily near the battle site and later moved to an American military cemetery. His burial card indicates the wishes of his family that a cross be placed on his grave in France; however, in 1921, his body was returned to Nebraska. The Bladen Enterprise, on May 6, 1921, dedicated their full front page to the "Impressive Military Funeral Conducted by Legion Boys in Honor of the Late Lieut. G. P. Cather Jr." [sic], and reprinted a number of commendatory letters the family received from officers, including Col. Hamilton Smith, who would be killed at Soissons, and Maj. Theodore Roosevelt Jr., who was gassed and wounded at Soissons.
In addition to a number of military sources, crucial clues to understanding the context of the novel are held in our collections in Red Cloud. The Sayra Cather Wagner Collection contains a number of photographs of G. P. Cather unavailable elsewhere and the one-of-a-kind image of Emanuel Prettyman in uniform. The Lynette and Paul Krieger Collection contains many pieces of ephemera previously belonging to the George and Frances Cather family, while the Blanche Cather Ray Collection comprises extensive farming and genealogical records of the Cather family. The WCPM Collection contains family letters, photos, and military souvenirs and more, much of it donated by the family early in our organization's history. We also owe a debt of gratitude to the archivists at the National Archives in St. Louis, Michael Knapp of the American Battle Monuments Commission, and Captain Cody Cade and Major Scott Ingalsbe of the Nebraska National Guard for their help in locating unclassified military records to further our understanding of the entirety of G. P. Cather's military service. Their assistance has been invaluable.
---
You can view our One of Ours Gallery for collections related to G.P. Cather and the novel inspired by his life and death. We are excited to be able to offer our searchable digital collections to Willa Cather scholars, enthusiasts, and others curious about our Willa Cather Foundation Collections & Archives at the National WIlla Cather Center in Red Cloud, Nebraska.
---
If you would like to use these collection materials or other items related to G. P. Cather, please contact archivist Tracy Tucker at ttucker@willacather.org for an appointment.