Image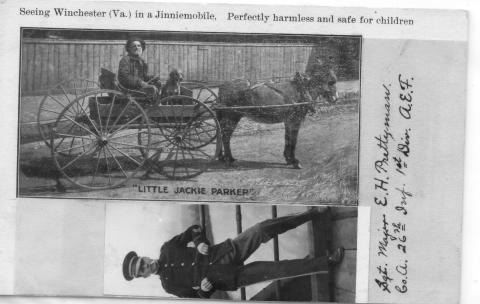 Image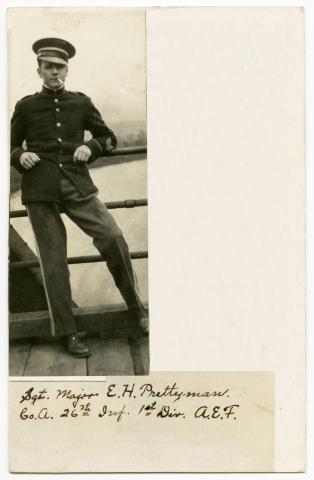 Annotations from the Archive: Discovering Emanuel Prettyman
As we begin to commemorate the centenary of One of Ours, Willa Cather's Pulitzer Prize-winner for Fiction, we look forward to sharing collection highlights to deepen readers' understanding of this 1922 novel. Cather based the book on the life—and death—of her first cousin, Grosvenor Phillips Cather of nearby Bladen, Nebraska. The entirety of the text is rich with inspiration from real life, from cousin G.P.'s death to the shipboard diary of Dr. Frederick Sweeney. Dr. Rebecca Faber's dissertation, All the World Seemed Touched with Gold, which explores this source material thoroughly, is available in our archive and on the University of Nebraska Digital Commons; the details of G.P.'s life have been a frequent subject of inquiry.
Following his death on May 28, 1918, at the battle for Cantigny, France—one of the American infantry's defining battles—details about the death of Lieutenant Cather were relayed to his grieving wife, Myrtle Bartlett Cather, and his parents, George and Frances Smith Cather. The sequence of events that led to his death were collected from soldiers who witnessed the event, one of whom was Sergeant Emanuel H. Prettyman. Prettyman maintained a correspondence with Frances Cather, describing G.P.'s courage and reassuring her that his death had been painless and instantaneous. Later, Prettyman would share his own lingering medical struggles resulting from war injuries.
The Bladen Enterprise, on May 6, 1921, dedicated their full front page to the "Impressive Military Funeral Conducted by Legion Boys in Honor of the Late Lieut. G.P. Cather Jr." [sic], and reprinted a number of commendatory letters received by the family, including one written by Anne Taylor of the Home Communication Service of the American Red Cross. A transcript, provided by the Webster County Historical Museum from their bound newspaper copies, was printed in the Willa Cather Pioneer Memorial Newsletter & Review in 1989. 
When Dr. Steven Trout visited Red Cloud to conduct research for his book Memorial Fictions in the mid-1990s, he discovered that in the few years since the 1989 WCPM newsletter, Anne Taylor's original letter had surfaced; G.P. Cather's orders to Prettyman for the days leading up to the Cantigny battle were enclosed within it. Taylor's letter paints a vivid picture of a wounded and grieving Prettyman in a French hospital, but until 2014, Emanuel Prettyman was little more than those few letters. A provident gift from the estate of Sayra Cather Wagner, however, finally allowed us to put a face to Prettyman's name.
Wagner was an adopted daughter of Oscar Cather, younger brother of G.P. She purchased the George and Frances Cather farmhouse south of Bladen in 1987. Though Wagner also lived in the house, it was full of both Cather family artifacts and period historical pieces; she hosted several Cather events at the house over the years. After her death, a great deal of Wagner's Cather collections were donated to us in Red Cloud, including several oversized poster frames containing WCPM promotional materials and clippings. Because we were just beginning to build our new archives at the National Willa Cather Center, storage space was at a premium, and we unframed Wagner's materials for safe keeping.
Behind one WCPM poster was a surprise: nine postcards and photos, taped to the back of the poster. Images of G.P. hunting in the mountains and during his U.S. Army service lay alongside several postcards sent from South America during his U.S. Navy service. Another postcard featuring a "JinnieMobile" from Winchester, Virginia, had been altered. Glued atop the postcard was a tightly trimmed photo of a young man in a pre-World War I U.S. Army uniform, and below it, George Cather had written, "Sgt. Major E.H. Prettyman, Co. A. 26th Inf. 1st Div. A.E.F." To the best of our knowledge, this is the only image of Prettyman identified.
Research continues to learn more about Prettyman's life; his military records and other materials are being added to our collections and will be available soon.
---
Sources include:
Sayra Cather Wagner Collection
The Willa Cather Foundation Collections & Archives
National Archives WWI military records
Willa Cather Pioneer Memorial Newsletter & Review
The Willa Cather Review
Memorial Fictions: Willa Cather and the First World War, by Steven Trout
All the World Seemed Touched with Gold, by Rebecca Faber
Newspapers.com including access to The Bladen Enterprise, Pittsburgh Post-Gazette, and others