Image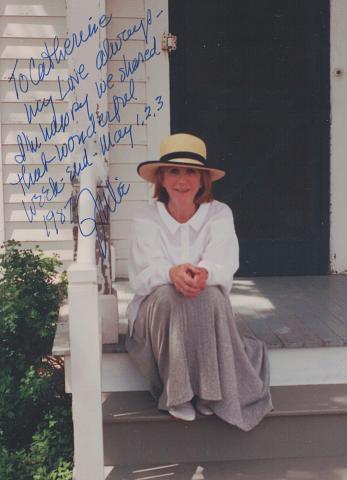 Image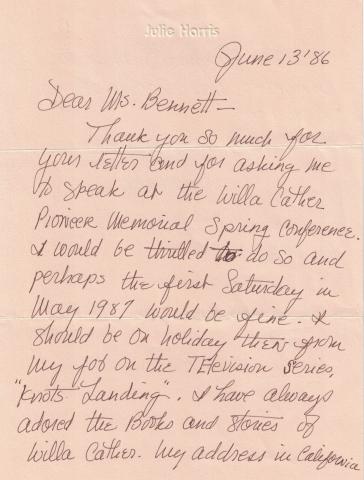 Image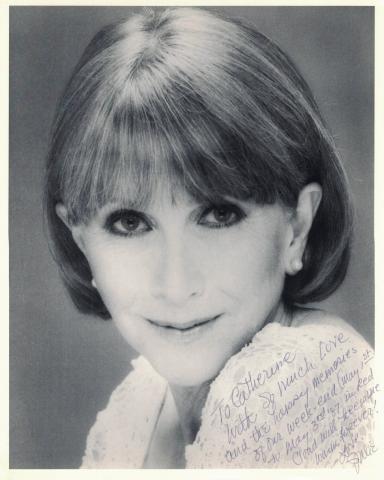 Image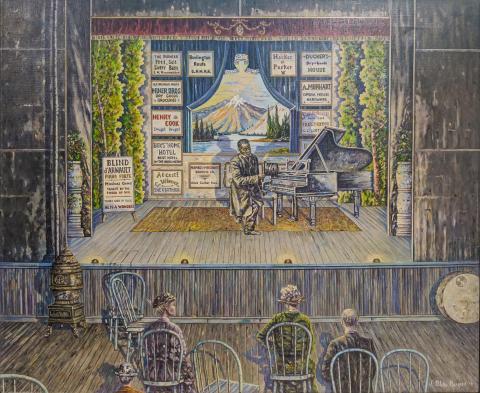 Annotations from the Archive: Julie Harris Estate Item Joins the Collection
The Willa Cather Foundation Art Collection boasts nearly thirty original oil paintings by John Blake Bergers (1931-2011), a professional artist who dedicated his life to painting the landscape of the Midwest, with a particular interest in the scenes described in the works of Willa Cather. Bergers and his family gifted these original oil paintings to the Willa Cather Foundation over several years.
In 1987, acclaimed actress Julie Harris accepted the invitation of the Willa Cather Pioneer Memorial to appear at the annual Spring Conference. At the time, she was known by many as Lilimae Clements on the CBS drama Knots Landing, but she had starred in a number of literary stage productions, such as The Belle of Amherst, based on the life of Emily Dickinson, for which she won a Tony award. Onscreen, she had starred opposite James Dean in East of Eden and opposite Paul Newman in Harper, among many notable performances. Prior to a Saturday evening reading of three of Cather's short works ("Peter," "On the Divide," and "A Resurrection"), Harris joined four hundred other Cather enthusiasts for bus tours of Webster County literary sites, visits to St. Juliana Falconieri and Grace Episcopal churches, and the Willa Cather Childhood Home in Red Cloud.
Harris was a lover of literature and a life-long fan of Willa Cather, after having read Shadows on the Rock when she was fourteen. From that time onward, she loved Cather's writing and connected it to her own life. "When she writes about her childhood, you can't help but think about yours. When she writes about her brothers and sisters, you think of yours. Her writing becomes a part of you," she told the audience during her performance in Red Cloud. While in here, Harris viewed the works of John Bergers on display at the WCPM. Harris was an avid collector of paintings, displaying them in her Cape Cod home; when she returned to Massachusetts, she took a Bergers piece with her: a Cather-inspired scene from My Ántonia, with Blind d'Arnault taking the Red Cloud Opera House stage before a backdrop decorated by historical Red Cloud businesses.
"I miss you and think of you so often and of that enchanted weekend . . .," Harris wrote to Mildred Bennett in April 1988. "Oh, it was the most special time for me and knowing you has been a blessing. I look at my blind pianist hanging on my bedroom wall and dream of Red Cloud."
Harris continued her involvement with the WCPM as she was able; her correspondence with Bennett shares details of her busy career and choicest roles. In 1989, she was working with Bennett to coordinate an Omaha benefit performance "for the Cather Foundation building fund," Bennett wrote. The performance would have to be toward the end of the year, because, Harris said in a 1988 letter, "In Sept. I go on tour with a play which has just won the Pulitzer Prize, 'Driving Miss Daisy'—I'm afraid we don't play Nebraska but by next May [1989] when the tour ends, I'll be ready for a rest & Red Cloud. . . ." She also added another Bergers to her collection in 1990—a beautiful oil painting of the Willa Cather Childhood Home, inscribed to Harris by the painter.
But Harris's return to Red Cloud was not to be. The wild success of Driving Miss Daisy meant an extended tour for Harris, and Mildred Bennett's cancer diagnosis meant the postponement of many of her WCPM plans. Bennett died that same year. Julie Harris died in 2013, after several years of poor health and squabbles over her care. Following her death and several years of legal wrangling, many of Harris's antiques, as well as theatrical memorabilia and her art collection, were auctioned, including her paintings by John Blake Bergers. This summer, we were contacted by the purchaser of the untitled painting of Blind d'Arnault that Harris describes in her 1988 letter; it was his desire—and ours—to bring this piece home to join the other paintings that so delight Cather fans when on display in our Red Cloud Opera House. It felt like a way to honor Julie Harris as well, to return her cherished piece to a place she knew and loved and dreamed of.
We plan to display this Harris-owned piece in 2022. We are eternally grateful for Julie Harris's work to promote the Willa Cather Foundation and the works of Willa Cather, and we welcome any materials related to her 1987 appearance in Red Cloud. If you have any such memorabilia, please contact archivist Tracy Tucker via email, ttucker@willacather.org.
---
For the digital archive description of this painting, click HERE. You can further explore our collection of other treasures from the Willa Cather Foundation Collections & Archives HERE.