Annotations from the Archives: Homesteading and Home-Building in the Archives
While Willa Cather was the member of the Cather family who shared life in early Nebraska with a reading public, she arrived with her parents a full decade after the first of her relatives settled down in the newly-formed Webster County. Several of our earliest collections feature museum objects and papers related to the lives of those early homesteaders, and we've talked about them in this series before.
However, our Blanche Cather Ray Collection, a large collection which continues to be catalogued, gives further insight into the motivations and mechanics of bringing new citizens to the West. Newly cataloged materials in this collection include financial and real estate records collected by George P. Cather, Willa Cather's uncle; correspondence related to land acquisition; and Burlington & Missouri River Railroad internal communications to land agents—a role that allowed George Cather to work on behalf of acquaintances still in Virginia to secure profitable farm land in Webster County.
Image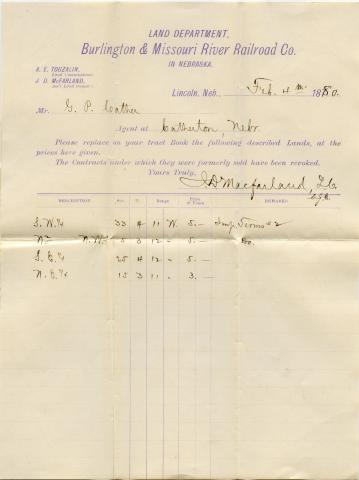 Among other newly available materials are land grants, warranty deeds, title searches and other legal documents related to the settlement of the Catherton Precinct in particular. Because of George's role as land agent, these records sometimes pertain to families other than the Cathers—making this collection useful to local genealogists as well as Cather researchers. George Cather's notarial seal, which he used on several of these official documents, will soon join our new exhibition, Making a Place: A Long History of Red Cloud, in the lower level of the Farmers and Merchants Bank building; the exhibition is expected to open December 2023.
Image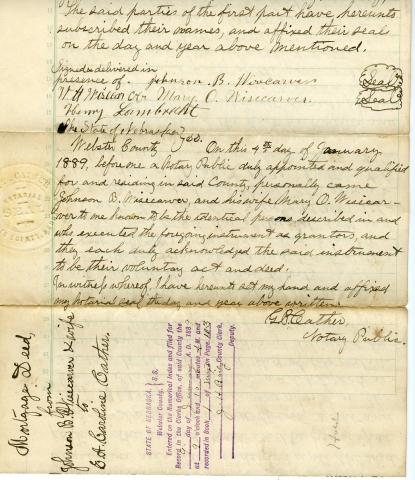 Of particular note are several journals written by George Cather, both before and after his move to Nebraska to homestead. George was a regular diarist, and the diaries added in this collection nicely bookend George's homesteading experiences. His journal of a return trip to Virginia includes his visits to his boyhood home Willow Shade, old friends and neighbors, and even trees that he planted before leaving for Nebraska. 
Image
Though not a diary per se, George Cather's "Material for House" notebook traces the renovations of the George P. and Frances Smith Cather home in northern Webster County. This exceedingly detailed book lists the vendors and prices for all materials used in the home, from two-by-four dimensional lumber and nails by the pound, to individual windows, wallpaper, and wooden columns. Each craftsman employed, along with their wages, is recorded. The homestead was much more modest in its early days, so this amazing record of the Cathers' one-of-a-kind home is a preservationist's dream!
Image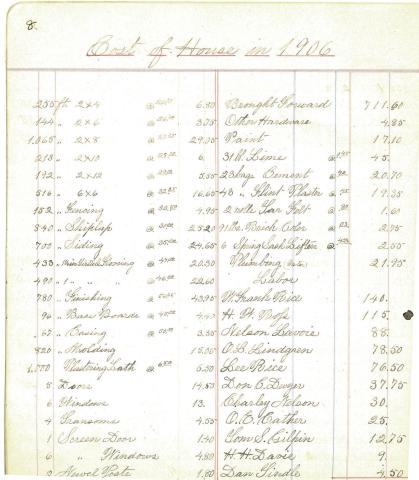 In addition to the many homesteading records and documents related to land sales, the Blanche Cather Ray Collection boasts correspondence addressed to and between members of the extended Cather family, Cather family genealogy records, and Virginia-related day books and financial documents both ante- and postbellum. Interested researchers should schedule an appointment to visit the archives in Red Cloud and can now do so by filling out a Request for Collection Access online! Please chat with our archivist with any questions about the collection or to learn more about our collections which may not yet be online; you can reach Tracy Sanford Tucker at ttucker@willacather.org.