Image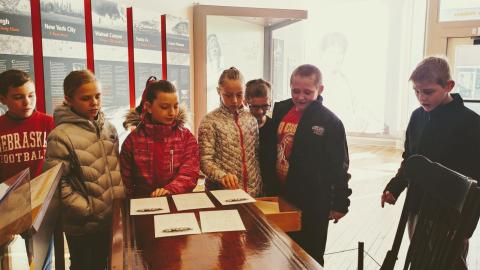 Autumn Offerings for Educators
It is back to school for all of us and, while an exciting time of year, the pandemic has presented educators and students with unexpected challenges. The silver lining of our new world reality is that we have been energized to create new and increased ways to deliver our resources to our constituents—and for which we have received important grant-funding in recent months. As educators, we want our students to do something meaningful with what we teach them.
"I want visitors to feel the impact of what they learn here, even if they can't actually be here," Rachel Olsen, Education Coordinator, said. "Whether you are teaching in-person or online, we will be here, ready to enhance your class's experience reading Willa Cather or learning about Nebraska history." 
This year, our touring options take into consideration that we cannot accommodate groups larger than eight people on our modified tours. While our virtual experiences cannot fully replicate an in-person experience, the videos still provide the information instructors need from our guides to help students contextualize Cather's writing.
To educators we offer:
To students and educators we offer important scholarship programs each year:
Arts and cultural programming at the Red Cloud Opera House is moving forward this fall:
We want to hear from you!
And stay tuned later this year and in 2021 for more educational resources, including additional virtual galleries like this one and a mobile app to enhance both in-person and virtual tours!
It is our goal to bring Willa Cather and Red Cloud to your students and classroom experience in any way that we can!
Feel free to share this information with other educators and promote our page link on your social media!
---
For more information or to customize a virtual experience for your classroom, contact:
Rachel Olsen, Education Coordinator
rolsen@willacather.org | Tel: 402-746-2653