Image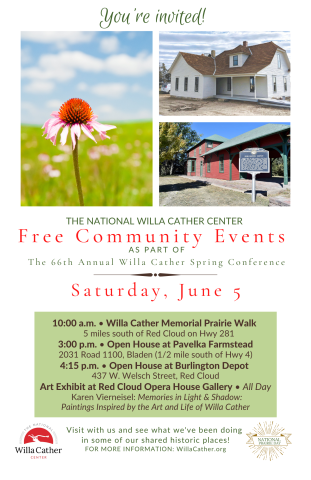 Community Events: Free and Open to the Public!
Join us on Saturday, June 5
The National Willa Cather Center will host its 66th annual Spring Conference June 3–5, 2021. Willa Cather and Popular Print Culture highlights Willa Cather's numerous magazine publications of her short stories and serialized novels and will explore the importance of this aspect of her career.
In addition to the paid portion of the conference, we are also hosting several events in Red Cloud on Saturday, June 5—the last day of the conference—that will be open to the greater community, free of charge. We invite visitors to join us at the Willa Cather Memorial Prairie and at two of our historic sites to see what we've been up to in the past year with some of our site restorations. We're excited for guests to see these important places in our shared history as we anticipate future efforts to add new interpretation and exhibits.
Our Red Cloud Opera House Gallery and National Willa Cather Center Bookstore will also be open from 9:00 a.m. - 5:00 p.m. for viewing and browsing, as well as our permanent exhibit, American Bittersweet.
Join us in celebration, visit with our staff and old friends, and have some refreshments while you visit!
Guided Prairie Walk and Readings at the Willa Cather Memorial Prairie, located five miles south of Red Cloud at the Kansas border, on Highway 281 • 10:00 - 11:30 a.m. — Join our education staff at the Willa Cather Memorial Prairie for a guided prairie experience! Along the way, we'll share Cather readings that explore her relationship with and sentiments for the Nebraska prairie. Of note is that June 5 is National Prairie Day and what better way to celebrate our magnificent and place defining landscape? You'll also be able to see our new installation of informative signage.
Open House at the Pavelka Farmstead, located approximately 14 miles north of Red Cloud [2031 Road 1100, Bladen, NE 68928] • 3:00 - 4:00 p.m. — The recently renovated Pavelka Farmstead, one of American literature's most beloved sites, has had significant work completed on the exterior and interior of the home and grounds. If you haven't been in a while, you are in for a treat!
Open House at the Burlington Depot, located at the corner of Welsch and Seward Streets on the southern edge of Red Cloud [437 West Welsch Street] • 4:15 - 5:15 p.m. — Join us at the recently renovated Burlington Depot in Red Cloud to experience the work that has been completed on the interior and exterior of the Depot building and grounds.
New Exhibit by Karen Vierneisel at the Red Cloud Opera House Gallery • Enjoy some beautiful art and browse our National Willa Cather Center Bookstore from 9:00 a.m. - 5:00 p.m. Our current exhibit, Memories In Light and Shadow — Paintings Inspired by the Art and Life of Willa Cather by Chicago-based artist Karen Vierneisel, will run through June 30. These paintings are also available for purchase.
---
Note that ongoing restoration work to our historic sites is being completed thanks to the generous support of donors to our Campaign for the Future.