Image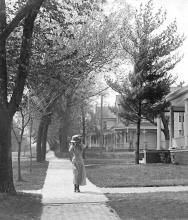 Exhibition & Performance Celebrate Publication Anniversaries of Two Novels
The Willa Cather Foundation and University of Nebraska−Lincoln's Cather Project are examining Willa Cather's interest in the arts with a special exhibition and performance taking place in conjunction with their 15th International Cather Seminar. An evening celebrating the 100th publication anniversary of Cather's The Song of the Lark and 80th publication anniversary of Lucy Gayheart is set to take place in Lincoln on Thursday, June 11.
Together, the Cather Project and Sheldon Museum of Art at the University of Nebraska–Lincoln have organized the exhibition Visual Cather: The Writer's Pictorial Imagination to coincide with the 15th International Willa Cather Seminar and the 60th Annual Willa Cather Spring Conference. The exhibition comprises The Song of the Lark, on loan from the Art Institute of Chicago, and objects from the collections of the Omaha Public Library, UNL Archives and Special Collections, Nebraska State Historical Society, Willa Cather Foundation in Red Cloud, Nebraska, and the Sheldon Museum of Art. The exhibition runs through August 30, 2015. Two gallery talks will be led by exhibition co-curator, Lindsay Andrews, on June 11 at 3:00 and 4:00 pm. A public reception will follow at 5:00 pm.
A performance entitled The Fine Things of Youth: Words and Music from Cather's Lucy Gayheart will take place at the Studio Theatre, Temple Building, 12th & R Streets in Lincoln on Thursday, June 11 at 7:30 p.m. Conceived and directed by Willa Cather Foundation Board President, Thomas Gallagher, The Fine Things of Youth is a dramatic account of Cather's great late novel, based upon Cather's text and the classical song repertory featured in this haunting story of the doomed affair between an impressionable young music student and a charismatic older singer. Drawing on the Schubert lieder that fills the novel, the presentation will use the talents of a dedicated group of artists, including Jill Anderson, Evan Bravos, Mark Kurtz, and David Porter.
The Fine Things of Youth is sponsored by Steve and Jill Hornady, John A Yost and G. Wade Leak, Nebraska Arts Council, National Endowment for the Arts, Nebraska Cultural Endowment, Willa Cather Foundation, and the University of Nebraska-Lincoln's Cather Project.
Tickets for the gallery reception and performance are $25 each. Patron tickets are available at $125 each ($100 tax-deductible), which includes recognition in the evening program and a one-year membership to the Willa Cather Foundation. Purchase tickets here or by calling 402-746-2653.
ABOUT THE ARTISTS
Jill Anderson is an Omaha-based actor, singer, director and producer whose 24-year career has taken her across the United States and includes such roles as Viola in Twelfth Night and Mrs. Lovett in Sweeney Todd. Her Joslyn Castle Literary Festival productions have focused on the Brontes, Oscar Wilde, F. Scott Fitzgerald and Bram Stoker.
Evan Bravos, baritone, is an Illinois native and graduate of Northwestern University's Bienen School of Music (M.M.). His recent roles include Count Almaviva (Le Nozze di Figaro) and Prison Guard (Dead Man Walking) at Central City Opera, where he was Apprentice Artist in the summer of 2014. His recent concert performances include the Fauré Requiem and Copland's Old American Songs.
Mark Kurtz is a musician and composer and Director of Music Ministries at First United Methodist Church in Omaha.
David Porter is a scholar, classicist and former president of Skidmore College. An accomplished musician and pianist, he has performed recitals throughout the U.S. and the U.K. He is editor of the scholarly edition of Lucy Gayheart, forthcoming from the Universityof Nebraska Press.
ABOUT THE ORGANIZATIONS
Founded in 1955 and headquartered in Red Cloud, the Willa Cather Foundation is a 501(c)(3) not-for-profit organization dedicated to promoting Cather's legacy through education, historic preservation, and the arts.
The University of Nebraska−Lincoln's Cather Project is a team of scholars dedicated to editing Cather's texts, running seminars and other events, and producing Cather Studies, a journal of current Cather scholarship.
For more information, contact: Media Inquiries: Ashley Olson, Executive Director 402-746-2653 aolson@willacather.org
Ticket information: Ana Armstrong, Administrative Assistant 402-746-2653 aarmstrong@willacather.org