Image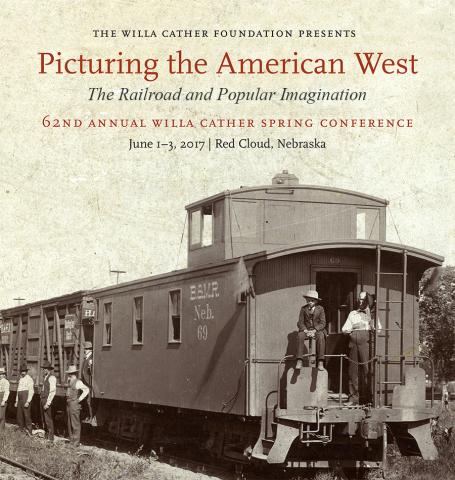 Free Events happening at the 62nd Annual Spring Conference
The Willa Cather Foundation hosts their 62nd annual Spring Conference June 1 – 3. "Picturing the American West: The Railroad and Popular Imagination," is a signature event of Nebraska's Sesquicentennial celebration and will highlight our 150 years of shared Nebraska history and culture. This year's conference includes many events that are free and open to the public, brought to you in part by Humanities Nebraska and the Nebraska Cultural Endowment. Included in the free events are:
Keynote address by Brent Glass, Director Emeritus of the Smithsonian's National Museum of American History. A national leader in the preservation, interpretation, and promotion of history, Glass is a public historian who pioneered influential oral history and material culture studies, an author, television presence, and international speaker on public memory. Most recently, Glass authored 50 Great American Places (Simon & Schuster, 2016), a guide to fifty of the most important cultural and historic sites in the United States — one of which is the Willa Cather Memorial Prairie. Glass will speak at 5:30 p.m. Thursday, in the Red Cloud Opera House auditorium.

Musician Dave Seay will perform "Train Songs & Tales," an upbeat performance featuring several instruments and railroad music and legends for all ages. At an additional cost, guests can enjoy homemade, hand-dipped ice cream from Arlo's Ice Cream and smoked beef, prime rib, and vegetarian meals from Angus McGee's. On the Brix will be there with signature cocktails and craft beers, too! Food served from 6:30 - 8:30, with performance at 7:30 p.m. at the Burlington Depot.

Author Ann Satterthwaite joins us to talk about her book, Local Glories: Opera Houses on Main Street, Where Art and Community Meet, Friday morning in the Red Cloud Opera House auditorium, 11:00 a.m.

Author and editor James Reisdorff will present "Pulling Up Stakes: When Trains Leave Town" at the Burlington Depot, 1:30 p.m. Friday.  

Speaker Bob Ferguson will present his sesquicentennial program, "Nebraska's Statehood in Stamps," at 3:15 p.m. Friday, in the Red Cloud Opera House auditorium.

Following Bob Ferguson's talk, join us for an artist's reception at 5:00 p.m. for Nebraska-born artist Shane Booth, whose photography exhibit Catherland is the result of a 2016 summer residency with the Willa Cather Foundation. Also on view will be Western Wonderlands: The Burlington Railroad in the American West, an exhibit curated by the Willa Cather Foundation which highlights the ways that railroads—and especially the Burlington—have changed the culture of the American West.
Founded in 1955 and headquartered in Red Cloud, the Willa Cather Foundation is a 501(c)(3) not-for-profit organization dedicated to promoting the legacy of Pulitzer Prize-winning author Willa Cather through education, historic preservation, and the arts.
The conference keynote, select panel discussions, and all exhibits are free and open to the public through the support of Humanities Nebraska, the Nebraska Arts Council, and the Nebraska Cultural Endowment. For more information, visit www.WillaCather.org or call toll-free 866-731-7304.