Image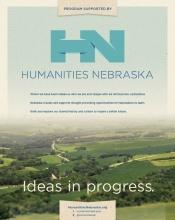 Humanities Nebraska Sponsors Free Spring Conference Events
The National Willa Cather Center will host its 66th annual Spring Conference June 3–5, 2021. Willa Cather and Popular Print Culture highlights Cather's numerous magazine publications of her short stories and serialized novels and will explore the importance of this aspect of her career. Once again, Humanities Nebraska will be sponsoring several of our events, making them free and open to the public, both virtually and onsite in the Red Cloud Opera House auditorium. The following events are available at no charge:
Invited lecture by Dr. Jean Lee Cole
Loyola University of Maryland 
Thursday, June 3, 2021 | 7:00 p.m. central
Cole, who was raised in Nebraska and Iowa, has taught English literature at Loyola since 2001, focusing on American literature as it pertains to race, gender, landscapes, and its place in culture. She is the editor of the journal American Periodicals, and her scholarship on American periodicals and visual culture make her an ideal speaker for this conference.
Keynote address by Dr. Radhika Jones
Editor in chief of Vanity Fair 
Friday, June 4, 2021 | 7:00 p.m. central 
Previously, Jones has served as editorial director of the books department at The New York Times, deputy managing editor at Time, managing editor at The Paris Review, editor at Artforum and Bookforum, and managing editor at Grand Street. Jones graduated summa cum laude with a B.A. from Harvard and holds a Ph.D. in English and comparative literature from Columbia University.
The Passing Show 
Saturday, June 5, 2021 | 1:00 p.m. central 
Moderator: Charles Johanningsmeier, Spring Conference Academic Director
Panelists: Radhika Jones, Jean Lee Cole, Matthew Lavin, Kelsey Squire, and Robert Thacker
Named for Cather's column in the Nebraska State Journal, the Passing Show is a lively panel discussion that brings together the many themes and topics of our three-day conference. Our panelists bring their unique viewpoints and expertise to a discussion that is always thoughtful, engaging, and directly answers the question: how does Cather's life and writing relate to our shared experience today?
REGISTER FOR THESE WEBINARS HERE!
Founded in 1955 and headquartered in Red Cloud, the Willa Cather Foundation is a 501(c)(3) not-for-profit organization dedicated to promoting the legacy of Pulitzer Prize-winning author Willa Cather through education, historic preservation, and the arts.
The conference keynote, select panel discussions, and all exhibits are free and open to the public through the support of Humanities Nebraska, the Nebraska Arts Council, and the Nebraska Cultural Endowment.
For more information, visit www.WillaCather.org or call toll-free 866-731-7304.