Image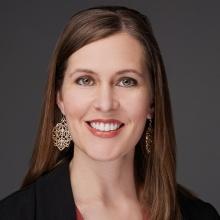 An Interview with Ashley Olson, Executive Director of the Willa Cather Foundation
Ashley Olson has been part of the Willa Cather Foundation staff since 2008 and has served as the organization's Executive Director since 2014. She holds degrees in Business Administration from the University of Nebraska-Lincoln and Public Administration from the University of Nebraska at Omaha. In her capacity as Executive Director, Olson heads the organization's staff and oversees management of the National Willa Cather Center, Red Cloud Opera House, Willa Cather Memorial Prairie, and the nation's largest collection of nationally designated historic sites dedicated to an American author. During her tenure as Executive Director, the Foundation's assets have grown by more than $8 million. She works closely with the Foundation's twenty-four member Board of Governors and leads a team of thirteen, with two more coming on board soon.
You have had the longest tenure of anyone on our administrative staff; what brought you to the Willa Cather Foundation and what has kept you here?
While I've always had an interest in history and preservation, I came here in the most unlikely of ways. Circa 2007, the organization had created a full-time position to oversee financial management. I was encouraged to apply for the job by a family friend during my last semester of college. As a business student, I had primarily imagined a career in the corporate world, but I was also open to opportunities that would bring me home to Red Cloud. During my interview, I was impressed by some of the Foundation's ambitious plans. Aside from feeling personally invested in the mission, I've stayed here because the organization was intentional about creating leadership opportunities that aligned with my career goals. Despite having no intention (initially) to work in the nonprofit sector, I fell in love with working in a field that is making a difference for people and the community. It's humbling that so many people across the country regularly contribute to further our mission. It's incredibly meaningful to me that we impact individual lives through education and arts engagement, and we impact the broader community through conservation and preservation efforts.
The organization has grown significantly in all ways since you came on board in 2008. What are some of the highlights of your time here that you'd like to share?
I'll almost certainly overlook something glaringly obvious, but here are a few things that come to mind. The restoration of the Willa Cather Memorial Prairie over a three-year period was a really incredible transformation with the removal of thousands of invasive trees and introduction of prescribed burning to foster growth of native plants. I enjoy hiking and views of the unbroken horizon that are now possible. Completion of the Moon Block rehabilitation and the opening of the National Willa Cather Center in 2017 was absolutely gratifying. As a result, our archival treasures are our housed in a proper environment and accessible to researchers. Development of the American Bittersweet permanent exhibit for our museum space was another highlight. I still feel inspired when I see students or visitors engaging with the exhibit; it's clear people are gleaning a deeper understanding of the complexities of Cather's writing and life when spending time in that space. More recently, the Nebraska Legislature unanimously approved the return of six historic sites and the WCPM Collection to our ownership. It was exciting to see the archive and collection pieces delivered and to get started on some major capital improvement projects to preserve the sites and make them accessible. 
Under your leadership, you have raised a significant amount of money for the organization, including two multi-million dollar campaigns. This is impressive for a mid-sized nonprofit organization. What is your secret?
There's really no secret. We're incredibly fortunate to have supporters across the country who make gifts that range anywhere from $5 dollars to $1 million dollars. It's not difficult to ask people to support a cause that you are both passionate about and personally invested in. We have a great "product" in Willa Cather's writing and legacy. Her literature means a great deal to many people, often for their own unique reasons and personal connections. In the end, it really comes down to relationships.
What would you say to other directors of smaller or mid-sized nonprofits who aspire to raise that amount?
Create a compelling plan and share how it will impact your mission, the lives of others, and the community you serve. 
What are your goals and visions for the future of the organization (both dreamt and achievable)?
Short term, I'd like to continue to grow our team of professional staff to ensure we can achieve the board's ambitious goals to reach a larger audience. I've dreamt for a long time about ways to make Cather more recognizable in popular culture (i.e. Broadway, film, television, etc.), so it would be wonderful to see something take off. I know there are a lot of readers out there with preconceived notions about Cather's literature, so I hope to show more people that her writing has broad appeal due to what tells us (or sometimes what it doesn't tell us) about humanity. 
What are your favorite aspects of your role as executive director?
I feel incredibly fortunate to work with a visionary board and to lead an incredibly talented and imaginative staff. I enjoy meeting supporters and visitors; I like learning more about what sparked their interest in Willa Cather. I greatly enjoy Cather's writing; her story and her progression as an artist is fascinating. I admire her commitment to her art, her business and marketing sense, and that she was willing to live an unconvential life for a woman of her time. At a local level, our organization has contributed greatly to downtown revitalization and economic development efforts, which makes me proud. 
What are your least favorite?
Honestly, not a lot to say here. Clifton Strengths tells me I'm an achiever, so I try to curb the urge to overcommit our organization to projects or to personally labor away in an excessive way. After almost fifteen years with the organization and experiencing the occasional burnout that seems to inflict nonprofit leaders, I'm working to delegate and elevate others into leadership roles. At times, this isn't as satisfying to me as doing some of the work, but it's obviously necessary as we strive to grow and expand our resources, programs, and outreach.
We're coming up on a big year in 2023; can you share more about our plans?
We plan to spend the year celebrating Cather in conjunction with her sesquicentennial. The Spring Conference in Red Cloud and the International Seminar in New York City are a big part of the commemoration. Next year also marks the 100th anniversary of Cather being awarded the Pulitzer Prize and the publication centenaries of A Lost Lady and April Twilights and Other Poems. We hope to bring renewed attention to these works, as well as others, through a virtual book club, programs in locations outside of Nebraska, and some Cather-focused exhibits at the Cather Center and other locations. The unveiling of the Cather statue in the U.S. Capitol is likely to be scheduled next year as well, which is exciting. Locally, it's also the 20th anniversary of the Red Cloud Opera House reopening, so we're bringing back some fan favorites for return appearances.
When you're not Willa Cather-ing, what things do you like to do?
I love to travel and discover new places. I enjoy cooking and photography and hope to carve out more time for experimentation with both of these things in the future. Our daughter is six, and her activities keep us on the run. I serve on the Nebraska Tourism Commission and on boards for a couple of other local organizations that I feel are making a difference in the community.