Image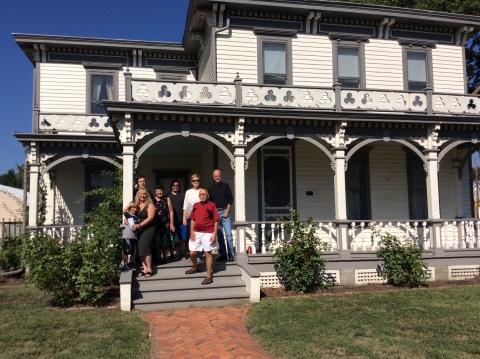 Image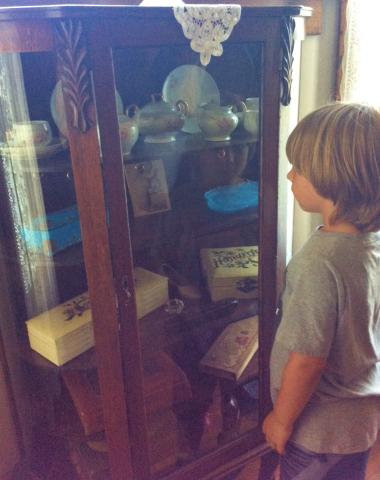 Jaydene Miner Drew Joins the Cather Legacy Society to Preserve Ancestral Home
It was a chance roadtrip with her father after college that first interested Jaydene Miner Drew in her Nebraska family history. Her father, James Hugh Miner, was driving from New York to Las Vegas for work and had stopped in Red Cloud to see the town where he'd spent summers as a child. Jaydene joined her father in Las Vegas to make the return trip, and he insisted they visit again so that she could see the town associated with her ancestry.
Jaydene grew up in Albany, New York, and lives in New Jersey, but her grandparents' roots are in Red Cloud. In fact, she was named Jaydene Lorraine to honor her ancestors. Her grandfather James Louis Miner grew up as the third generation in the J.L. Miner House, or the Harling House in My Ántonia. He was the grandson of the home's namesake and son of Charles Hugh Miner and Alfretta "Retta" Ayre, Willa Cather's first cousin. It was Hugh's sisters, Carrie Miner Sherwood and Irene Miner Weisz, to whom Cather dedicated My Ántonia.
After graduating from Red Cloud High School, her grandfather Miner moved with his wife back to her home state to raise their family. While he died when Jaydene was just three, her father and aunt Kay Jones Smith shared stories about summers in Nebraska at the J.L. Miner House. Jaydene's father slept on the back porch, while Kay remembered having to be on the lookout for a peering Aunt Carrie, fearful she'd catch her sneaking out of the house at night.
After her quick stop in Red Cloud with her father in the 1990s, Jaydene began researching her Miner family history and reading Cather to learn more. "It was really My Ántonia that started it all," she said. "Being able to see the Miner house and then to connect that with characters–like 'Charley' in the book was Charles Hugh Miner, my great grandfather–I realized that this book so vividly describes this house and my family." 
Jaydene considers the settings and scenes in Cather's literature as a rare, beautiful family legacy, which is why she has decided to include the Willa Cather Foundation in her estate plan. "After seeing how the history of the family has been maintained, it felt like it was important to leave something behind," she said. "How many people have the opportunity to say that their family heritage, their story, is still being told and preserved? That's special to me."
Understanding the family's Nebraska history is something Jaydene has prioritized with her own children. In 2016, she traveled to Red Cloud with her husband, Tom, and their two sons, Chance and Jett. They stayed at the Cather Second Home, explored the town, visited the Miner Ranch and the site of the former Miner Brothers' Store, and toured the J.L. Miner House.
"I wanted the boys to see their heritage, and I also wanted them to see a different life," Jaydene explained. Sometimes when you grow up in New Jersey, you don't understand a lot of differences in America. I wanted them to see what small town life is like." 
Though he, too, may have felt disconnected from his Nebraska roots, Jaydene said her father was proud of the similarities he shared with his ancestors. Like his distant cousin Willa Cather, James Miner was a writer. He contributed to Referee Magazine for more than three decades, and he also authored technical books about baseball and softball rules. Jaydene said she also feels Cather's influence. She works as a vice president of product development and design for a housewares company, but she recalls the barrier of a glass ceiling in her career. "I think Cather really helped women in the literary community, but also in general, being able to empower themselves and have careers and show that it can be done; it's inspiring," she said. 
There won't be any return roadtrips to Red Cloud for Jaydene with her father; James Hugh Miner passed away in 2021. Jaydene's Legacy Society gift has been earmarked for continued care of the J.L Miner House. With this gift, she helps ensure the Miner family stories will live on within the historic home closely associated with the Miner and Cather families; she also paves the way for future generations of Miner descendants to encounter their history firsthand with a road trip to Red Cloud, Nebraska.
---
If you would like additional information about the Cather Legacy Society, or if you have named the Willa Cather Foundation as a beneficiary in your estate plans, please contact Jeniffer Beahm, Development Associate, at jbeahm@willacather.org.