Image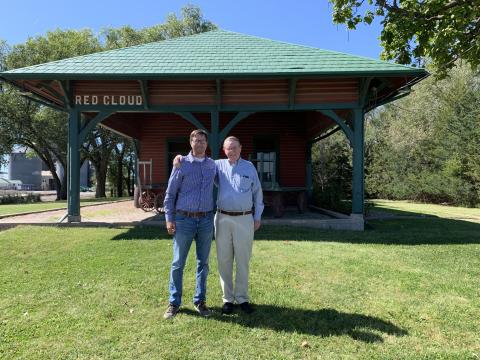 Joseph Kyle's Last Visit Leads to Unexpected Bequest
There are few things more touching to leaders of nonprofit organizations than to receive an occasional email, phone call, or letter that reveals a bequest has been left through arrangements in someone's estate plan. This summer, we received notice of an unexpected and generous bequest from Dr. Joseph D. 'Joe' Kyle. The news came from Dr. Kyle's son, Alex Kyle, who shared that he had escorted his father to Nebraska in 2019 for "one last visit to the Plains."
While visiting south-central Nebraska, the Kyles ventured to Red Cloud to see the National Willa Cather Center, participate in a guided tour, and explore the Willa Cather Memorial Prairie. Alex shared that his father was impressed by the visit, and recalled, "When he updated his will, he wanted to remember you."
Dr. Kyle was born in Cincinnati, Ohio. After graduating from Dartmouth College, he enlisted in the U.S. Army. He attended the Military Intelligence School and the Army Language Schools, where he studied German and Russian. Joe was recalled to duty during the Berlin Wall crisis, served nearly a year at Fort Lewis, and was later offered a Department of Defense civilian appointment to the Army's Military Intelligence Service in Germany. While there, he met his future wife, Charlotte, and enrolled in the University of Erlangen with the intent to become a teacher of European history. Upon return to the United States, he earned M.A. and Ph.D. degrees from the University of Pittsburgh.
A connection to Nebraska came by way of Dr. Kyle's tenure at Hastings College, where he chaired the history department. A long-time resident of Hastings, he also served as President of the Adams County Historical Society and was an active member of St. Mark's Pro Cathedral. After leaving teaching, Dr. Kyle accepted a National Park Service post with the Richmond National Battlefield Park in Richmond, Virginia, and later joined the staff of Historic Hanover Tavern and taught at Randolph-Macon College.
During the more than twenty years Dr. Kyle made his home in Nebraska, he developed a deep appreciation of Nebraska and the Great Plains. When asked what he believed motivated his father to remember the Willa Cather Foundation in his estate plan, Alex Kyle said, "My dad was really impressed with the Foundation's dedication to celebrating literature and its way of educating people about early life on the Great Plains." With his bequest, Dr. Kyle posthumously joins nearly thirty members of the Cather Legacy Society. The Society is comprised of individuals who have arranged to extend their support of the Willa Cather Foundation beyond their lifetimes. Planned gifts from legacy society members enable the Foundation to grow and pursue opportunities that align with our mission to promote Willa Cather's legacy through education, preservation, and the arts.
---
If you would like additional information about the Cather Legacy Society, or if you have named the Willa Cather Foundation as a beneficiary in your estate plans, please contact Ashley Olson, Executive Director, at aolson@willacather.org.