Image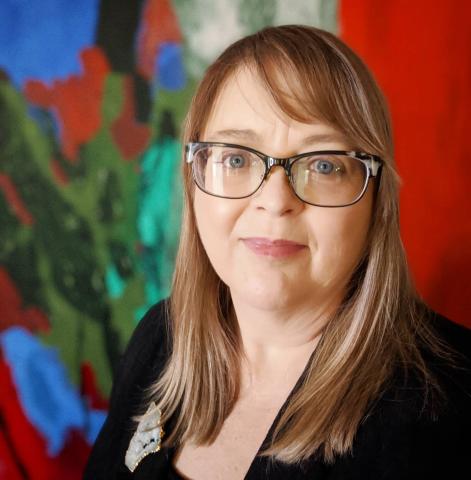 Meet Our "New" Director of Collections and Curation: Tracy Sanford Tucker
Although Tracy Tucker has been with the Willa Cather Foundation for a decade as Director of Education, she was recently promoted to Director of Collections & Curation as part of an internal restructuring. Learn more about Tracy and her new role—and what this means for the organization and for our Collections and Archives!
You have many diverse interests, talents, and work backgrounds, such as prairie botany and gardening skills, photography and graphic design, and you have worked as a professional chef, as well as writing for scholarly journals. What led you to your original position as Director of Education at the WCF back in 2012?
I have bounced around a lot and have a terrible habit of turning my hobbies into jobs, but the throughline in almost all of these things is an intense desire to keep learning and creating—sometimes the more challenging the better. My origin story is that I saw "my job," the Education Director at the NWCC, advertised when I was an undergraduate the second time around. The organization encapsulated everything I was interested in and hoping to do, and it gave me a goal as I continued on through my Master's degree. I know there were doubters, but when I saw the job listed again years later, I just felt like it was meant to be.
Please explain more about your new role and title: how is it different from your former job responsibilities and how is it the same? 
When I started with the NWCC in 2012, my role as Education Director also included management of the archives and collections. However, with increased space and the return of the collections and historic properties from History Nebraska in 2019, I was finding that more and more of my time was needed in collections care and processing, as well as supervising visiting researchers. With my new role, I'll step back a bit from Spring Conference planning, for example, and other events, and focus instead on curating exhibits and developing interpretation at the historic sites, caring for our collections, and managing the maintenance and use of our historic sites. And I would be remiss if I didn't mention that I'm only able to do this with the help of some great staff members and volunteers!
Apart from your job responsibilities, how has the task of preserving our archives and collections evolved in the past decade?
I can't overstate the importance of creating our archival space and research area to the Moon Block project; when it was finally finished in 2017, it elevated our collections care and research capacity tenfold. It also attracted a lot of attention from potential donors, and we soon needed to move to a digital collections management system, update our policies and procedures, and begin rehousing some collection items to make the best use of that space. And now we think about digitizing and making our collections public-facing—that took up a lot of my time during our closure for COVID—and making sure that our collections are available to people regardless of their geographic location or physical capabilities.
Where has the majority of the NWCC Collections & Archives come from?
Overwhelmingly, it's come from two major sources: Cather family members and local Red Cloudians. Our collections are hard to make sense of unless you remember that we were first called the Willa Cather Pioneer Memorial, and so a great many of Red Cloud's oldest families donated items that reflected the homesteading experience and mementos of early Red Cloud.
Archiving anything would seem to be the practice of preserving the tangible forms of memory, sentiment, and cultural history—whether personal, or shared. What is the importance of an actual museum archive, especially in this digital age in which we live?
Well, you have to give digital archives their due: they provide unprecedented amounts of access for so many people, and that's an amazing thing, but they still require time, money, maintenance—just like physical archives do—or those digital files could be gone forever. At the end of the day, as useful as reproductions or digital images are, our collections are precious because of their singularity and their ephemeral nature. Authentic objects in the collection have an aura, if you will; they are cracklingly alive. Roland Barthes talked about the punctum of a photograph—a highly sensory, highly subjective effect of a photo on a viewer—, and I think many collections and archives objects also have something of that . Reproductions somehow lack it.
Everything seems "curated" now in our daily lives to the point of almost becoming clichéd, but museum curators are the real deal. What is the more important aspect of curation of the Collections & Archives here — and what is your ideal donation, and what is something you wouldn't be interested in having in the collection?
Ah, I mean, in the Cather world we're all chasing the grail, right? The manuscript of Hard Punishments would be near the top, Cather's unfinished manuscript. Juvenile letters would be up there as well, along with more personal belongings. She was such a private person that I would love to know more about she and Lewis's day-to-day living: Willa Cather's wine journal or a list of the books on her nightstand or Josephine Bourda's best recipes, written down. Something I'm less interested in would be taxidermy because of its tendency to poison people.
What are your favorite archival items, and what are your favorite collections pieces? (Top 3s are fine!)
This is very hard to choose, but I would say that Willa Cather's address book has proven to be really fun to read. It is currently being processed for digitization with an archival student, Chris Wolak. My favorite collection item will always and forever be the brass and steel bloodletting lancet that was in Willa Cather's trunk. It's beautifully made but—remember what I said about objects having an aura?—there's something a little unsettling about where this little thing has been and what it's seen over the years.
On that note, in your mind, what are the oddest archive or collections items that we have?
One of the few taxidermied items we have is a stuffed baby alligator. It has no markings and so far as I know, hasn't been referenced in any letters or collection materials related to Cather. It clearly didn't come from Webster County, but why it's here, I would love to know. I have some guesses but that's all they are: guesses.
Can you briefly describe the process of digitizing the collections? What does a typical item take in terms of time from photographing, IDing, typing, and posting? Is the digitization of the Archives a finite project…and how do you manage to do it all around everything else?
Well, digitization is only a part of collection processing. From the time an item comes through the doors as a donation to the time it's available for viewing on our collections pages is at minimum, 54 minutes—I've timed it!—but that's assuming that a lot of things go perfectly. Processing an object involves measuring and describing it, assigning it a unique number and tagging it, creating a safe enclosure for it—all things to do with the physical object. Much of our collection has been here for years and that work is done. Photographing or scanning the object comes next, followed by the research. Some things go very quickly—a single page letter with a date? That's straightforward. Mystery items like the lancet or a handmade item like some of Cather's clothing take much longer to photograph and research. So digitization is a long-term project, and my priority has been to focus on the objects that are particularly fragile and most often used (and therefore at risk of damage). The recent launch of the NWCC Photograph Collection online is a major piece of that work, and much of the groundwork for that digitzation was completed by our intern Thara Michaelis.
The January 2019 return of the Willa Cather Pioneer Memorial Collection, which had been housed for many years at History Nebraska, as well as the transfer of ownership of our historic sites back to us, is hard to beat. Do you have any other job-related highlights in your time at the WCF?
That really is hard to beat—that was an amazing day when the truck backed up to our doors and those collections came home. Developing the American Bittersweet exhibit, though, has to be one of the best things I've done. I learned so much in that process as we collaborated with a number of Cather scholars and other subject-matter experts, and I'm excited to do it again in the other sites as we develop new interpretation materials.
Now that the definition of Collections, and your role, has extended to include the preservation of our historic sites, what are your main goals and priorities for our 10 historic properties?
Well, I don't like surprises, so getting ahead of problems with proactive maintenance and housekeeping is my biggest priority. I read somewhere that a historic site is the biggest object in your collection, and that rings true for me, so I hope to give the sites the same level of care that I give a museum piece; for me that means really studying the building and its history, monitoring it and making preservation choices along the way, and working toward sustainability as we provide as much access as we can. It's a big challenge, but since so many of our collection objects are displayed within our historic sites, it matters to me that these buildings are protected and safe.
How are you connected with the Center for Great Plains Studies and how has your interest in literature of the West and the Great Plains infused your work at WCF and as an archivist?
I chose the University of Nebraska-Lincoln to get my Master's degree specifically because of the Center for Great Plains Studies and how it allowed me to really create the degree I wanted. With the CGPS behind me, I was able to take all sorts of classes outside my home department—from agricultural leadership to ornithology; Chuck Braithwaite, who was the director of CGPS at the time, also helped facilitate my summer internship at the Homestead National Monument, which was really the clincher for me in developing a love of museum teaching. I was nominated for an Affiliate Fellowship by Dr. Braithwaite. The Fellows of the Center all share a professional interest in the Great Plains and have a research, teaching, or public service commitment to the region, and my association with those folks has been a highlight of my professional career.
Finally, what do you think Willa would think about all of this fuss about preserving her archives and collections, let alone having an organization and center in her name? Did she save any correspondence from others, or then "future archives," that we know about—or did Edith Lewis get rid of everything that remained? Do you get the sense that, correspondence aside, Willa was a hoarder or a tosser?
For a long time I assumed that Willa Cather would probably hate me and might even think I'm a bit of a dunce. I don't consider myself high-brow at all, and I don't think we'd share many interests. In general, I don't think she would want "her things" on display or her biography used to parse her writing. But I do recognize that she self-selected many items to send home to Carrie Miner Sherwood, things like her academic regalia when she received her honorary degrees, so I believe that she envisioned something, one day, being created to honor her memory. If anything, I think she and I would have a great conversation about prairie grasses and plants. I think Cather liked to keep things—her fan mail is a great example—but living in small New York spaces, keeping must have been hard. I think there is much more material out there, perhaps in unprocessed collections or maybe in the hands of private collectors. It's wonderful to imagine what might yet come to light.
---
Do you have an interesting item or archive for our consideration? You can contact Tracy Tucker, Director of Collections and Curation at ttucker@willacather.org.