Image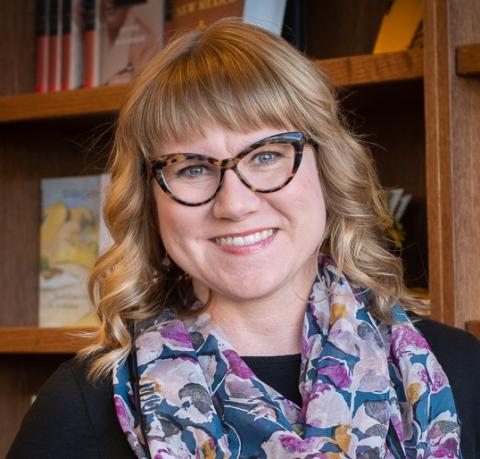 Meet Our New Director of Education & Engagement: Rachel Olsen
Rachel Olsen has been part of the Willa Cather Foundation staff since 2017, when she was hired as a part-time tour guide before becoming our first education coordinator in 2019. In the fall of 2022, she was promoted to director of education and engagement and, in this capacity, she will lead educational programing, site tour initiatives, and public programming outreach.
A former college English teacher, Rachel enjoys developing activities and content designed to preserve Cather's rich literary history. In addition to supervising a team of programming and visitor services staff, Rachel organizes the Teacher Institute and Author Series programs, oversees the Red Cloud Opera House season of events, plans conferences and seminars, and fosters relationships with educators from area schools, colleges, and universities.
Rachel has a Master's degree in English from Kansas State University with a certificate in Women's Studies and was a full-time faculty member and writing center director at Oklahoma City Community College before moving to Red Cloud. When she is not getting to know visitors or working on educator resources, Rachel enjoys volunteering and spending time with her husband and daughter.
You have been in Red Cloud since 2015 and employed by the Willa Cather Foundation since 2017. How did your skill set prepare you for your work here, and were you always a Willa Cather fan?
Believe it or not, I wasn't always a fan of Willa Cather's writing. I wasn't a harsh critic, either, she just wasn't on my radar. In graduate school, my areas of interest were late 20th century fiction, film adaptation, and women's studies. So I think while much of my academic interests didn't intersect with Cather's work, my interest in women's literature and art provided a gateway to Cather once I started working for the Foundation as a tour guide. I also have a college teaching background, and my time in classrooms was valuable as preparation for meeting visitors and students who come to Red Cloud to learn about Cather.
What are the highlights of your job evolution over the past five years?
I like to try new things and one of the things I loved about teaching was that every semester was different. While the Covid-19 pandemic was very hard to navigate, I am grateful that our organization responded to the pandemic by embracing virtual programs and resources because it gave me a chance to learn new things. I learned some basic video production skills, I learned how to create content for our app, and I created a virtual author series. All of these programs and resources are still part of my job, and it is still meaningful work.
Another recent highlight of my job is our Teacher Institute program that takes place each summer. We launched this last year, and it was so much fun! There aren't a lot of professional development programs for K-12 teachers that provide such a curated experience, and I am really proud that we give teachers a chance not only to work closely with staff to develop instructional supports around Cather's stories and novels, but also to treat educators to engaging activities, unparalleled access to our collections, and lively social time.
What are your favorite aspects of your new role?
Much of my new role is built around strengthening programs and services we already offer, and it feels satisfying to me to make improvements or enhancements to things we already do. In my new role, I will work more directly with scholars and performers, which is also exciting, and I look forward to continuing to make our engagement efforts more cohesive and inclusive. I hope more people see what we do and feel like it speaks to them, like it is for them.
Any particular challenges—ongoing or new—that you are looking forward to tackling?
As a growing organization, one of the ongoing challenges is for our small but mighty staff to keep up with the demands of developing resources, planning and executing programs, and welcoming increased visitors to our center. I think something I look forward to tackling is identifying processes that we can adopt to make our work loads easier to manage, as well as developing more assessment mechanisms that help us better understand and communicate the impact that our work has on our visitors and our community.
We're just starting a big celebration year for several of Cather's works and her 150th birthday. Can you share more about our plans for educational programming and outreach?
There are so many great events and discussions coming together for our 68th annual Spring Conference, and the 18th Willa Cather International Seminar will take place this summer, as well. There are events in the works outside of Red Cloud—stay tuned!—and I'm very excited and hopeful about Cather's statue installation taking place in Washington, D.C., this year.
You've mentioned that A Lost Lady is your favorite Cather novel. What is it about the work that makes this so, and how are you going to channel that into this year's centenary?
Something I love about A Lost Lady is that the lady in question, Marian Forrester, is such a complex character. She is not always easy to like, she's messy, and that is what I love about her. If My Ántonia connects readers to the world of immigrant homesteaders and domestic workers via Cather's real life friendship with Anna Pavelka, then A Lost Lady connects readers to the growth of commerce and the evolution of Red Cloud as a town via Cather's acquaintance with Silas and Lyra Garber. I'm fascinated by how a rural town sprouts up—not from nothing, but from a place that was originally inhabited by indigenous people who had been pushed out. Again, there is a lot to tease apart and examine.
You've spearheaded the Teacher Institute, now in its second year, and a successful Author Series that came out of shared Covid isolation. What's next as far as big projects go?
Something I'm excited to tackle is re-envisioning our tours and educational services once all of our Cather sites have been restored and/or reinterpreted. As the re-interpretation of the Farmers and Merchants Bank takes shape, I'm already starting to think of ways we could update the visitor experience.
Speaking of Covid, the Willa Cather Foundation was quick to pivot toward virtual tours and programming after the shutdown. How has that furthered our mission and your work here?
As I mentioned in response to an earlier question, virtual programming gave lifelong learners such as myself a chance to create new programs and resources for our guests and supporters, which was rewarding to do despite the struggles presented by the pandemic. In terms of furthering our mission, virtual programming allows us to reach those who may not be able to travel to Red Cloud, and virtual programs can also act as an enhancement of our in-person programming. In a broader sense, virtual programs are an expansion of the sorts of arts and culture programming that is hard to come by in rural Nebraska, and I think Cather herself would appreciate our efforts to make art and literature more accessible to people everywhere.
Apart from visitor interactions, what defines the "engagement" aspect of your new role? Does that include community building in and around Red Cloud and, if so, what are you excited about to enhance the experiences of our local and regional residents?
Engagement can be a nebulous term, and to a certain degree, I like it that way. I guess what it means to me in my new role is that I lead the efforts to show students, guests, and patrons how important Willa Cather's work is in the context of American literature, but I also make room for those same audiences to make their own meaning out of their time here. Even if people are here for an Opera House show or to look at contemporary art in our gallery or visit the prairie, I hope they understand that our organization is moved to provide those experiences because of Willa Cather and learning even just a little bit about her will enrich the activities in which visitors and the local community participate.
When you're not Willa Cather-ing, what are your favorite things to do?
My favorite things to do outside of work are spending time with my family and friends, watching movies (I love movies), traveling, making playlists, and cooking. If I can swing a book or two outside of my reading load for work, so much the better.