Image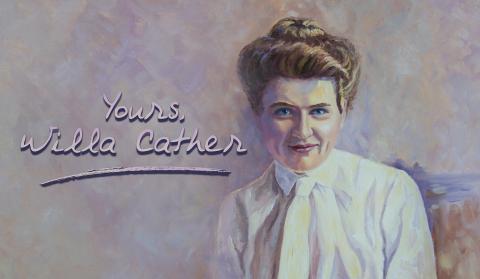 New NET Production 'Yours, Willa Cather' Spans, Radio, TV, & Digital
LINCOLN, Neb. (Sept. 2, 2015) – Nebraska author Willa Cather wrote some of the most unforgettable fiction of the 20th century including the novels My Ántonia and O Pioneers!. But the voice of the private Willa Cather tells a much more personal story. Until recently, many scholars believed that Cather burned most of her letters before her death. Not so. In the new NET Television documentary and NET Radio series, Yours, Willa Cather, the private person is revealed through letters that survived, hidden away in drawers, trunks and archives.
The NET Television premiere is 9 p.m. CT, Monday, Sept. 21. The 30-minute documentary features 11 letters, mostly from her friendships with a select group of women. The NET Radio series begins Saturday, Sept. 5 and runs through Sunday, Sept. 27 with essays about correspondence to Louise Pound, Sarah Orne Jewett, F. Scott Fitzgerald and Annie Pavelka. Nebraskans can listen Saturdays at 9:35 a.m. CT (Sept. 5, 12, 19 and 26) and Sundays at 4:35 p.m. CT (Sept. 6, 13, 20 and 27) on NET Radio.
Based on the 2013 book The Selected Letters of Willa Cather, co-edited by University of Nebraska-Lincoln professor Andrew Jewell and Texas scholar Janis Stout, the NET project includes original video, audio, photography, and commentary. The voice of Willa Cather is read by Nebraska native Marg Helgenberger, known for her Emmy-nominated role on the commercial television series, "CSI."
Visit catherletters.org for more information. The free Yours, Willa Cather iBook® will be available later in September in the iBooks Store.
Yours, Willa Cather is funded in part by the NET Foundation for Television, Humanities Nebraska and the National Endowment for the Humanities.
NET operates the statewide public service network which includes NET Television, NET Radio, NET Learning Services and NET Technology Services. To learn more, visit netNebraska.org.