Image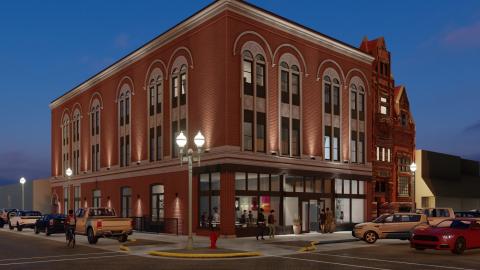 Planning Underway for Hotel Garber
Potter Block to Be Restored
Plans are underway to restore and adaptively reuse a downtown building for the creation of a twenty-six room boutique hotel in Red Cloud. Located in the historic Potter-Wright building next door to the Willa Cather Foundation's Farmers and Merchants Bank, the hotel will be called Hotel Garber. Its namesake, Silas Garber, was a founder of Red Cloud and the prototype for Captain Forrester in Cather's A Lost Lady.
The hotel will increase the supply of overnight accommodations available in Red Cloud, enabling visitors and event attendees to spend extended time exploring local attractions. By providing a high-quality lodging and hospitality option, the hotel will allow us to better fulfill our mission—our visitors will be able to stay longer to enjoy the Cather Center and historic sites, the town, the Willa Cather Memorial Prairie and other scenic places Cather loved.
The design features a spacious lounge area on the first floor, which will add life and vibrancy to downtown Red Cloud. A stairwell descending from the sidewalk will be restored for direct entry into a modern meeting space accommodating up to sixty-four guests. Memorable guest rooms will spotlight artwork featuring Red Cloud from days gone by, while the lobby area will also exhibit historic fixtures from the town's rich history.
Data compiled by the University of Nebraska Extension illustrates that Webster County receives, on average, an annual $1.3 million in local economic impact from tourists. A recent economic impact study concluded that with expansion of Red Cloud's lodging options and other customized services and experiential opportunities, some 3,500 visitor couples from outside the local area might spend multiple days in Red Cloud, spending an average of $1,000 per couple per trip. This could mean $3.5 million of total visitor spending annually because of the hotel – which could lead to a total economic impact of nearly $6 million per year. The project will continue to diversify the local economy, creating an estimated ten new jobs and generating over $365,000 in local sales and lodging taxes during the first decade in operation. 
Hotel Garber is planned as part of a collaborative agreement for heritage tourism development between the Red Cloud Community Fund of the Nebraska Community Foundation, the City of Red Cloud, the Chamber of Commerce, and the Willa Cather Foundation. Financing is being sought through both charitable donations and equity investments. To learn more or to help support the project, please contact Executive Director, Ashley Olson, at (402) 746-2653 or aolson@willacather.org, or Red Cloud's Tourism Director, Jarrod McCartney, at jmccartney@redcloudnebraska.com. To donate online, please click here.