Image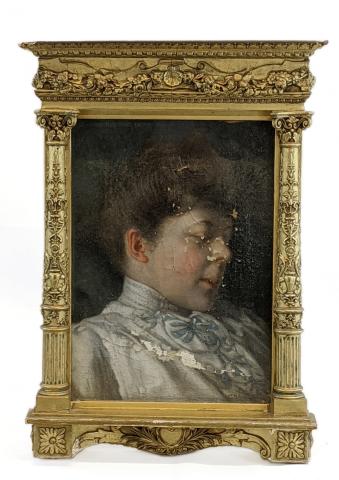 Portrait of Evelyn Osborne Joins the Collection
In her short story "The Profile," Willa Cather writes of a painter who falls in love with his subject, a woman named Virginia Gilbert, who bears a long facial scar "caused by a deep burn, as if from a splash of molten metal." The inspiration for the character is thought to be Evelyn Osborne, the daughter of Charles Osborne, a noted silver designer for both Whiting Manufacturing and Tiffany's.
Evelyn Osborne was also at the heart of a disagreement between Dorothy Canfield Fisher and Willa Cather. As Mark Madigan has written in Vol. 44 of the Willa Cather Newsletter & Review, Osborne and Canfield both studied at the Sorbonne, and on Cather's first trip to Europe, Canfield kindly arranged lodging and introductions for Cather and her traveling companion Isabelle McClung. Madigan's research on Canfield's letters reveals that Canfield prevented "The Profile" being published in The Troll Garden, Cather's 1905 collection of short stories, out of fear that Osborne would not only recognize herself in the story, but might be pushed toward suicide by Cather's depiction. Osborne would die in 1905 of appendicitis, tragically young, and "The Profile" went on to be published in McClure's Magazine in 1907. This past summer, Madigan was made aware of a portrait that had been painted of Evelyn Osborne; instead of being created by a young, lovestruck painter, as Cather had written in her short story, it was painted by Osborne's father, Charles, and dates to approximately 1902. The piece had gone under the hammer, and it was only as the buyer began to research the painter "C. Osborne" that the connection between the fragile painting in the Renaissance Revival frame and the Cather short story came to light.
The painting has now arrived in Red Cloud, joining our collections in late September; professional conservation will be crucial to preserving it for the ages. The delicately tinted oil-on-canvas portrait is likely in its original open-backed frame. Several portions of the painting have been damaged during its lifetime, and plans are being made to have it assessed by the team at the Gerald R. Ford Conservation Center in Omaha, so that we may begin planning for Evelyn's debut in Red Cloud.
If you're interested in learning more or in supporting the restoration effort, please contact our archivist Tracy Tucker at ttucker@willacather.org. Donations may be made from our webpage as well, by designating a gift to "Evelyn Osborne."