Image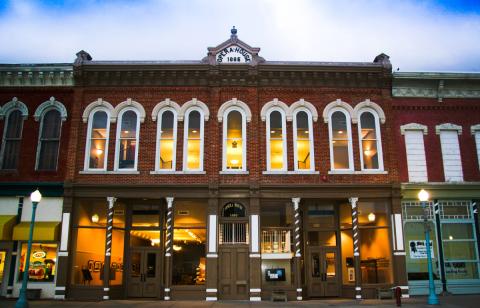 The Red Cloud Opera House is on the Nebraska Passport Program
The Nebraska Tourism Commission is pleased to announce the stops that will be on the summer 2016 Nebraska Passport. "The Passport Program encourages travelers to explore the state collecting stamps, while reconnecting with Nebraska and supporting small businesses and attractions," Nebraska Tourism Commission executive director Kathy McKillip explained. "Year after year the program gains popularity. In 2015 more than 24,600 travelers collected stamps and we expect 2016's participation to be even better."
The 2016 Passport will again feature 80 attractions on 10 themed tours. Travelers will have from May 1 through September 30 to visit the attractions and get their stamps. The summer program will honor the 100th anniversary of the National Park Service and feature 23 new communities.
"The Passport selection team wanted to approach the 2016 program in a way that emphasized the incredible stories of Nebraska and its people—from the things we make to our unique history," said Passport Program Coordinator Amanda Barker. "This year will feature some stops that will make you reconsider our reputation as a 'flat' state and help you explore the various heritages and cultures present in our state, and of course, give you something to eat along the way."
Passports will be available at participating stops in May or can be pre-ordered by emailing info@NebraskaPassport.com, with a name, mailing address and number of Passport booklets requested. Participants are also encouraged to download the Nebraska Passport App for their smartphone and get stamped digitally, supplementing the physical Passport booklet for convenience. The free mobile app is perfect for travelers who might be visiting stops outside of their posted hours. Please note, the passport app will be updated with the 2016 information on May 1. Those who used the mobile app last year will need to download the update to see the new program information. To download search 'NE Passport' in the Apple App Store or the Google Play App Store.
The Red Cloud Opera House is proud to announce that we are a part of the "Nebraska on Film" tour. The opera house is open from 8:00 - 5:00 p.m. Monday through Friday, 9:00 – 5:00 p.m. on Saturday, and 1:00 – 5:00 on Sunday. We will have passport books available prior to the May 1 start date. Start your Nebraska adventure with us!
Prizes for this year's participants will be announced at the start of the program. For more information or to get your Passport you can stop by The Willa Cather Foundation, (402) 746-2653. You can also go to the Nebraska Tourism website at VisitNebraska.com or NebraskaPassport.com.