Image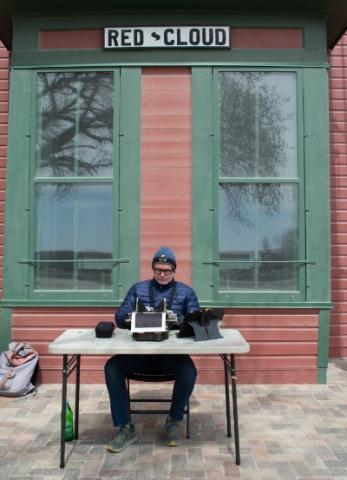 Ways of Reading: On the Road with Tim Youd's 100 Novels Project
Artist Tim Youd spent much of April in Red Cloud re-typing The Song of the Lark as part of his 100 Novels Project. That month, Tulsa Kinney, editor of the Los Angeles-based Artillery magazine, visited the Cather literary sites and prairie landscapes where Youd spent his days. The result is a cover story in the July/August 2022 issue of the magazine.
We've excerpted the article here, with some of education director Tracy Tucker's featured imagery of the prairie and historic sites used in the article. Click on the button below to go to the full online article in Artillery.
---
Excerpt from article in July/August 2022 edition of Artillery, by Tulsa Kinney:
When I first encountered Tim Youd, he was sitting at a metal table outside an art gallery in Chinatown, tap-tap-tapping away on a portable typewriter, just minding his own business. Most of the crowd didn't pay him much mind either.
Earlier that summer, Youd found himself on the flatbed of a pickup truck parked in front of LA's Terminal Annex Post Office retyping Charles Bukowski's Post Office on an Underwood typewriter. That was in July of 2013 and proved to be a precursor to the LA performance artist's ongoing "100 Novels Project" series, in which Youd visits the settings of one hundred novels and retypes them in their entirety on the same model typewriter that was used for the original composition. The Bukowski performance would become number 7, marking the beginning of these literary pilgrimages that would take Youd all over the world.
Now, almost a decade later, I'm in Red Cloud, Nebraska, to watch Youd (pronounced you'd) perform a retyping of Willa Cather's The Song of the Lark. Speaking of larks: Could Youd have ever imagined his project taking him this far, literarily and geographically?
"I think that's the great good fortune that I have happened upon," Youd tells me over an espresso at the one coffee shop in Red Cloud, a small prairie town of around 1000 souls. We're marveling at his journey thus far. Just name any well-known American author—been there, retyped that: Kurt Vonnegut, Upton Sinclair, Jack Kerouac, William Faulkner, Flannery O'Connor, Tom Wolfe. Cather's The Song of the Lark is number 72—only 28 more to go. What can 10 years of intense drive and dedication possibly mean at this point, other than perhaps I'm talking to a well-read madman. "This thing has become way more expansively meaningful to me than I could have ever imagined in the first couple of retypings," Youd exclaims, pondering the meaning of it all. "It's become my whole life. It's become everything."