Image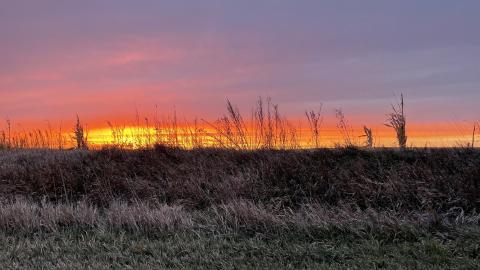 What We're Grateful For: Staff Reflections
Some of our National Willa Cather Center staff reflect upon what they're grateful for this year.
---
I'm grateful to work for a visionary board that is committed to advancing Cather's legacy, and I'm appreciative to lead a talented team of people who believe our work inspires and enriches lives. I also owe a debt of gratitude to the supporters and volunteers who make our work possible. We have asked a lot of them in recent years with a combination of increased programming and major fundraising campaigns. It is affirming that people continue to find value in our work and invest in our goals through their gifts of time, talent, and treasure.
—Ashley Olson, Executive Director
Every year, especially when I am warmly greeted by children at the grocery store or when I hear about how much fun a friend had at an opera house show, I am grateful to work for an organization that brings arts and culture programs to my community. I have always loved to be surrounded by books and art, and here I am, spending my days among the great works of Willa Cather, beautiful and diverse works of art, and an ever-deepening grasp of Great Plains history. It is a true privilege to be a part of the National Willa Cather Center.
—Rachel Olsen, Director of Education & Engagement
From the first time I visited Red Cloud, it felt like home. I am so grateful to be in Red Cloud and part of the talented team at the Willa Cather Foundation. I love being part of an organization that brings so much joy to the world with the arts, education, preservation, and so much more.
—LauraLea Johnson, Administrative Assistant
The Willa Cather Foundation speaks to that which I hold dearest—preservation of our natural spaces, a commitment to education and lifelong learning, and appreciation for the arts. I am grateful for the opportunity to help support the mission of this wonderful organization and to be able to immerse myself in the world of Willa Cather each and every day. I have her to thank for helping me fall in love with this state that I've called home for 15 years.
—Jeniffer Beahm, Development Associate
What I am grateful for is having a job that I enjoy. I spend my day surrounded by books and history. I feel like I learn something new every week. I have friendly and helpful coworkers. They make everyday worthwhile.
—Nick Powers, Visitor Coordinator
I am grateful to be involved in the hospitality of lodging, and that we have so many bookings. I enjoy reading guest feedback whether it is through our guest book or the reviews on Airbnb. It is nice to be a part of something that makes people feel welcome and comfortable. Knowing that our guests truly enjoy their stay is a great accomplishment.
—Jen Schriner, Facilities Assistant
I am grateful to be living in Red Cloud, and working among people who celebrate the beauty of nature and the prairie. I feel I am learning about the pioneer spirit, and through Willa Cather's art, becoming a bit more human, more bold and inspired. I'm thankful that visitors can come and connect and feel renewed in some mysterious way... and that I have a little part to play at the National Willa Cather Center.
—Pamela Livingston, Tour Guide 
I am grateful to have a role that combines my love of Willa Cather and her writing, and a lifelong interest and career in historic preservation, with the daily promotion of the National Willa Cather Center. It is amazing that we can reach the entire world through the Internet and social media, but so much is also happening right here in this special place called Red Cloud. So it is a constant joy and a pleasant challenge to reach and engage with diverse audiences from everywhere, and an honor to be a messenger of all that we do. I am also fortunate to be part of a stellar team of committed and hard-working colleagues.
—Catherine Pond, Marketing Coordinator