Image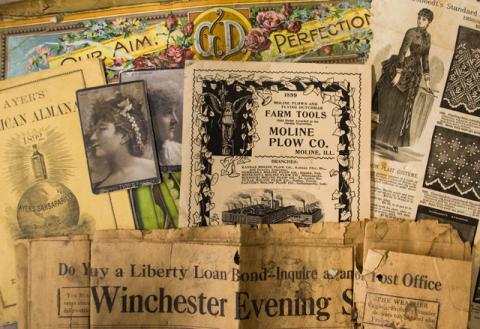 Willa Cather Foundation Collection Continues to Grow
This letter from Willa Cather Foundation Board President, Lynette Krieger, originally appeared in Volume 60.1 of the Willa Cather Review.
In April 2017, the past met the present quite unexpectedly for me. During an exploration of the attic of the 140-year-old George Cather home, I thought I felt the whole house tremble when I chanced upon a trove of forgotten documents: a true archival moment. Here were remnants of a family's past, bits of torn and faded paper, fluttering their music through the air out of the silence of the attic.
As one of the members of the committee that worked to raise the funds for our new National Willa Cather Center, I was vividly reminded of the importance of the Foundation's quest to build our new archive. We had several thousand pieces of archival materials awaiting a proper placement in history. And now by chance, the remodeling of the George Cather home was coinciding with the opening of the archive. Yes, here too were documents and ephemera from its original family led by George and Frances "Franc" Cather. Grosvenor Perry ("G. P.") Cather, the model for Claude Wheeler in One of Ours, was their middle child (of five). Many once carefully boxed treasures, now a century later, were musty and crumbled, more than ready to find a proper place in the new Cather Center. Other items were in perfect condition, like the family's 1892 almanac and G. P.'s calling card adorned with purple violets, and a large assortment of "School Reward of Merit" slips. A slightly chewed-up copy of the Hesperian magazine, dated January 1893, contains the original publication of Cather's story "A Son of the Celestial." Of further interest, a good number of Republican party nomination cards demonstrated the George Cathers' participation in the Webster County political culture of the day. Taken together, they help us to have a deeper understanding of a family that figures importantly in Willa Cather's life and work.
And so it was that as President of the Board of Governors of the Willa Cather Foundation, it was my privilege to be able to bestow on the Foundation a multitude of treasures from a century past. These items have their place in history and a new home at the National Willa Cather Center. Items saved, items treasured. I'll always wonder about this happy coincidence of finding these objects just as we had a good home to give them. I do hope you will visit the new center and enjoy our many treasures.