Image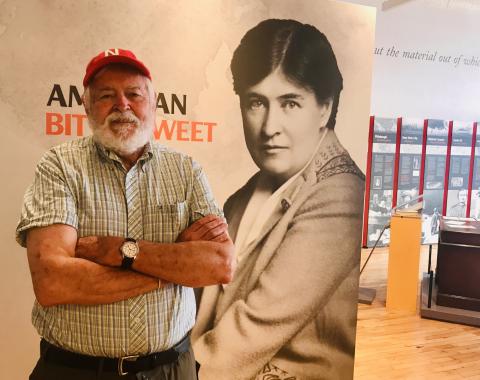 Image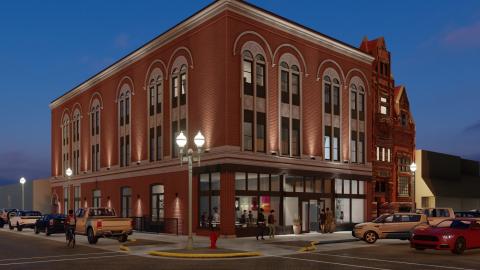 William Norris Buffett Gifts Millions for Creation of Hotel Garber
Literature enthusiasts from across the country who visit the National Willa Cather Center will soon have access to enhanced amenities. Guests can look forward to overnight stays in Red Cloud at a charming boutique hotel, thanks in large part to the support of William Norris Buffett.
Buffett's Inavale Foundation gifted $2.6 million to the Willa Cather Foundation last year. A large portion of the gift is to support the redevelopment of a downtown building into Hotel Garber. The project is one of four goals of the Foundation's Campaign for the Future, which has provided funding for capital improvements at numerous historic sites, new exhibits and interpretation, and an endowment to support educational outreach and preservation.
While he was born and raised in Omaha, Buffett spent ample time in Red Cloud during his youth. In all, he spent twelve summers at his grandmother's farm near neighboring Inavale. Some of his fondest memories of boyhood are the trips he made "to town" on Saturday evenings. A night out in the 1940s consisted of a meal at Sid's Café, a movie at the local theater, a ten-cent bag of popcorn, and a butterscotch sundae at the Hawley Drug Store.
Joined by both friends and family, Buffett has enjoyed several visits to Red Cloud in recent years. He's become an excellent ambassador for the National Willa Cather Center and the Red Cloud community. He expressed great happiness in making this monumental gift, noting that Red Cloud has a special place in his heart and memory. When acknowledged for his generosity, Buffett said simply, "Red Cloud gave more to me than I could possibly give to it."
The gift also honors Buffett's ancestors, including Daniel Gibbon Norris, who arrived in Webster County in the spring of 1871 and filed a homestead claim on land near the Republican River. The lounge of Hotel Garber will be named for Daniel Norris, and individual guest rooms in the hotel will be named in memory of Buffett's grandmother, parents, and his brother.
A writer himself, Buffett sprinkled many Cather quotes throughout his book Grubbed Stumps, Fixed Fence, Pa To Town: Our Nebraska Farm 1871-2010. The publication is a beautifully illustrated account of his family's connection to the Norris homestead over three generations. More than that, it's a thoughtful assortment of personal recollections, newspaper articles, and first-hand accounts of rural life. The book debuted in 2013 and is available in the National Willa Cather Center bookstore. All sales benefit the organization's mission.
Ashley Olson, Executive Director of the Willa Cather Foundation, noted that Buffett's generosity will have a lasting impact on the work of the Foundation. She described the hotel project as a huge step forward for the Foundation and the community of Red Cloud, but noted that the flexible nature of the gift will also allow the Foundation to take advantage of other strategic opportunities to promote Cather's legacy. "Being entrusted with a gift like this is an honor and a dream come true; we are immensely grateful to Bill and his family for their astonishing generosity," she said.
About Hotel Garber
Hotel Garber will be a 27-room boutique hotel in downtown Red Cloud. The facility will help achieve tourism development and downtown revitalization goals by rehabilitating the Potter Block building, a 1901 structure that has been vacant and decaying for over twenty years. The hotel's name is a nod to Silas Garber, a founder of Red Cloud, the third Governor of Nebraska, and prototype for Captain Forrester in Willa Cather's A Lost Lady. When fully restored, the building will provide much-needed lodging for tourists and expanded meeting facilities for events and retreats. It will allow visitors to the National Willa Cather Center to stay longer to enjoy the museum, the historic sites, the town, the Cather Prairie, and other scenic places Cather loved. In the first ten years of operation, Hotel Garber is projected to add up to ten new jobs and generate $6.7 million in revenue and $800,000 in sales and lodging taxes. Pending completion of fundraising, construction is projected to begin in 2022.
How You Can Help
Please consider supporting the project with a charitable gift. Naming and recognition opportunities are available, and pledges are payable over a 5-year period. Contributions may be mailed to the Willa Cather Foundation, 413 N. Webster St., Red Cloud, NE 68970. Donations may also be made online.