Image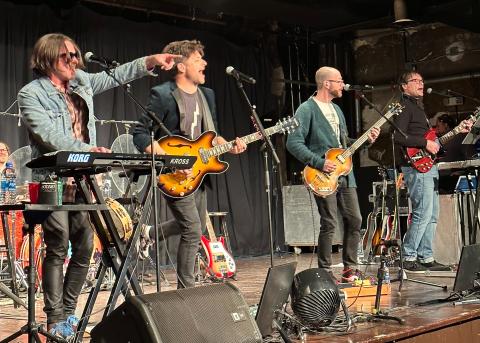 Red Cloud Opera House Sponsorship Opportunities
The Willa Cather Foundation offers several opportunities for businesses to become involved with our programs throughout the year. Develop your image as a good corporate citizen by partnering with one of the most respected non-profit organizations in the area. As one of a select number of arts and cultural venues in south-central Nebraska, the Willa Cather Foundation brings monthly arts programs and exhibitions to youth and adults in central Nebraska and north-central Kansas.
Sponsors receive advertising benefits in event programs, newspaper ads, annual reports, electronic newsletters, and exposure to thousands of visitors annually. These tax-deductible donations also provide complimentary tickets, premium seating, and demonstrate a commitment to cultural events and the fine arts and humanities.
Learn more about sponsorship opportunities:
Jeniffer Beahm (402)746-2653 or jbeahm@willacather.org.
---
Our 2023 Sponsors
THE DIRECTOR
THE SPOTLIGHT
THE MARQUEE
THE STANDING OVATION
THE HEADLINER
THE CENTER STAGE
THE RED CARPET
---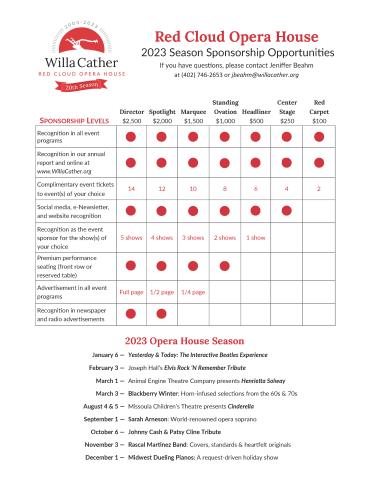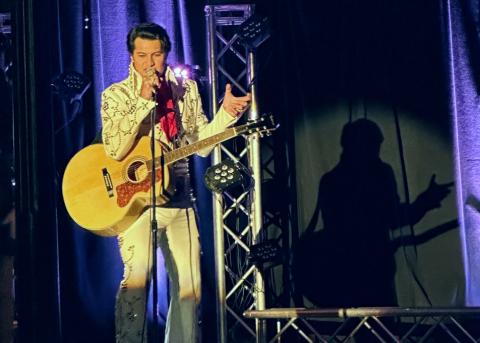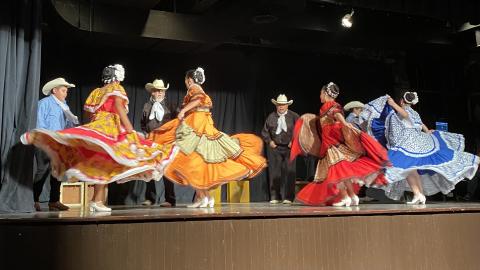 Upcoming Events at the Red Cloud Opera House
Missoula Children's Theatre Presents: Cinderella
Join us for a production of Cinderella featuring local youth! Auditions will take place on Monday, July 31, at 10:00 a.m., and are open to students entering grades 1 through 12. The first rehearsal will begin approximately fifteen minutes after the audition and go until 2:15 p.m. While not all students will have to stay for this rehearsal, all students should bring a packed lunch and be prepared to stay until 2:15 p.m., just in case. Show Times: Friday, August 4, at 5:30 p.m. Saturday, August 5, at 2:00 p.m.
---
Johnny Cash & Patsy Cline Tribute
Sing along to some of the most iconic country music of the 20th century! Bill Forness is back to pay tribute to music legend Johnny Cash, and he is sharing the stage with Melinda Feree, who will perform music by Patsy Cline. Join us for a night of duets, storytelling, and an homage to country music history!
About Bill Forness
A Tribute to Johnny Cash has been sweeping the country with the iconic sounds of legendary Johnny Cash since 2010.
---