Image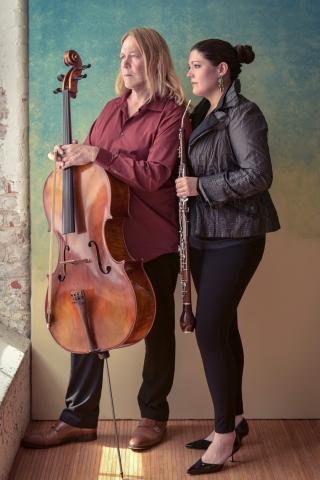 Artist Talk with the Bel Canto Duo
National Willa Cather Center
413 N. Webster Street
Red Cloud, NE 68970
United States
This event is free and open to the public (and also included in Spring Conference registration). It will be presented from the Red Cloud Opera House, and also available digitally below.
Join us for a special artist talk with the Bel Canto Duo: "How Cather's Literature Inspires Original Music Composition."
The Bel Canto Duo blend a rich tapestry of sound from oboist Darci Griffith Gamerl and Grammy-nominated cellist, David Downing. Their performance of Four Cather Tableaux is a four-part movement of original compositions commissioned by the National Willa Cather Center. Inspired by A Lost Lady, "Nebraska: The End of the First Cycle," April Twilights and Other Poems, and One of Ours, these publications defined Willa Cather's 50th year and also shaped the latter half of a literary career that we are still celebrating 100 years later.
Funding for this event was provided by Humanities Nebraska and the Nebraska Cultural Endowment.
---
The Bel Canto Duo's Saturday, June 3 performance, at 7:30 p.m., is a separately ticketed event at Spring Conference and the public is welcome to attend. 
---
Livestream here on Saturday, June 3 at 2:30 p.m. CT