Image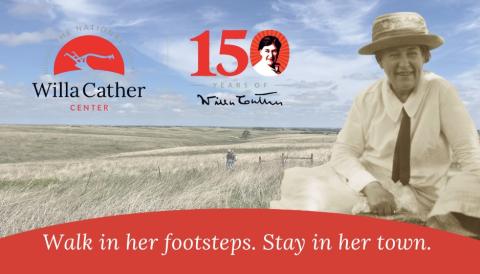 ,
Image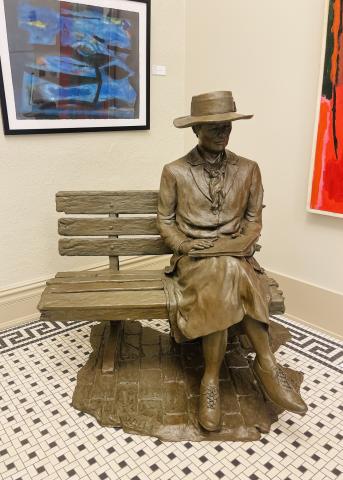 10 Ways to Celebrate 150 Years of Willa Cather!
Experience the prairie world of writer Willa Cather in Red Cloud, Nebraska! This year, the National Willa Cather Center, and the nation, is honoring 150 years of our famed writer—and several of her works are also celebrating centenaries.
Here are 10 ways that you, too, can celebrate while visiting Nebraska this year (or around the country)!
1. Hike and stargaze at the Willa Cather Memorial Prairie
The 612-acre Willa Cather Memorial Prairie—original, preserved, and never dug prairie land as Willa Cather would have experienced it—is located just five miles south of Red Cloud on the Kansas border. You are free to explore or book a guided Prairie Tour to learn more about the natural history of this incredible American landscape and ways that it shaped so many of Cather's novels.
2. Stay a few nights with us in Red Cloud!
You can reserve a room—or the entire house—at the commodious, yet cozy, Cather Second Home Guest House. Stay in the "Frankfort Room," the room reserved for Cather when she returned home to visit family and friends. The self-catering accommodations are a perfect place for a family gathering, retreat, or book group getaway. Our modern loft-style Villa Willa also awaits your visit in the Moon Block above the National Willa Cather Center. [Both are bookable via Airbnb from our website.]
3. Learn More About Willa Cather's life and times
American Bittersweet, our permanent exhibit on the life and writing of Willa Cather, is a free and immersive experience adjacent to our National Willa Cather Bookstore. Or visit with Willa in the back lobby! [Catch a viewing party, or watch live on C-SPAN when her sculpture by Omaha sculptor Littleton Alston is installed in the Visitor's Center at the U.S. Capitol this year (date to be announced).]
4. Take in a show or event at the Red Cloud Opera House
The restored Red Cloud Opera House is now celebrating its 20th season since a complete restoration in 2003. Watch traveling productions on the original stage where Cather herself performed as a young girl and gave her valedictory graduation speech.
5. Tour our historic sites
Amble or drive along the streets of Red Cloud on a self-guided tour of many recently restored historic sites related to Willa Cather's writings. Or, book a guided Town Tour, a driving and guided site tour with one of our expert guides.
6. Explore rural Webster County
Take a Country Tour of scenic sites and landscapes around Webster County, including the restored Pavelka Farmstead with its original "fruit cave": the setting of the last beautiful and poignant chapter of My Àntonia.
7. Read Willa Cather's novel, A Lost Lady
 is celebrating 100 years of publication, and one of several of Cather's novels based on people and places in Red Cloud. As part of our town tour, you can see the restored Farmers and Merchants Bank with its original interior and an upcoming permanent exhibit on Red Cloud's history. The prominent Romanesque Revival style bank was built by Silas Garber and his partners in 1889 and was the first home of the Willa Cather Foundation after 1955. Founder of Red Cloud and Nebraska's fourth governor, Garber and his socialite wife Lyra were friends of Cather's and provided her the inspiration for Captain and Marian Forrester in the novel.
8. Shop your way up and down North Webster Street in downtown Red Cloud
We have many new businesses and eateries, and check out our National Willa Cather Center Bookstore (also online!). Brimming with Cather-related books and other authors, we have a variety of curated selections and perfect gifts for all ages—and newly stocked 150th celebration merch!
9. Plan your next visit and watch for the opening of Hotel Garber in 2024!
This boutique hotel, now under construction adjacent to the Farmers and Merchants Bank, is an exciting and collaboratve community adaptive reuse project that will restore the Potter Block similar to its original 1880s appearance, while adding 30 modern rooms for visitors like you!
10. Visit the National Willa Cather Center—and Red Cloud—virtually!
If you can't visit us just yet, virtually tour our sites or download the National Willa Cather Center app on your laptop or phone—and travel with us through Red Cloud at any time!
---
We can't wait to see you!
And be sure to follow our Cather at 150 event page throughout the year for more celebratory activities here in Red Cloud, in Nebraska—and around the country!
---
For Further Reading