Image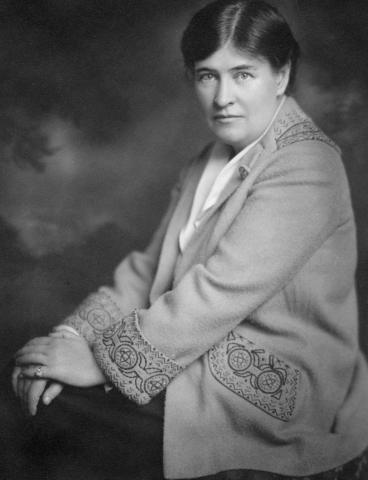 Cather Sesquicentennial
Commemorating 150 Years
The National Willa Cather Center is pleased to announce that it will commemorate acclaimed novelist Willa Cather's 150th birthday with a host of special events. This monumental year is also the 100th anniversary of the Pulitzer Prize for One of Ours, as well as the publication centenaries for A Lost Lady and April Twilights and Other Poems.
Willa Cather's prolific writing career and contributions to American letters has been honored nationally in 2023 when her statue was unveiled as part of the National Statuary Hall Collection in the U.S. Capitol. Cather is the first Pulitzer Prize-winner and the twelfth woman represented in the collection. Sculptor Littleton Alston is the first African American artist to be represented in the National Statuary Hall Collection.
Another significant initiative underway is the restoration of the Willa Cather Childhood Home. This National Historic Landmark was Cather's residence between the ages of ten to sixteen. Notable for its preserved vernacular style and original wallpaper in Cather's attic bedroom, the site will reopen to visitors in the latter half of 2023. The restoration is made possible in part by a Save America's Treasures grant from the National Park Service, with matching funds provided by the Willa Cather Foundation's Campaign for the Future. 
Book clubs and teachers around the country are encouraged to explore discussion questions and curriculum support resources at www.willacather.org or to download the National Willa Cather Center app for virtual tours. Communities throughout the United States who would like to request a speaker or are interested in hosting a Cather event should contact the National Willa Cather Center at 402-746-2653 or info@willacather.org.
---
Cather 150 — 2023 Schedule of Events
UPCOMING or ONGOING

Through Nov 30 — Willa Cather and Material Culture: A Sesquicentennial Reflection, featuring photographs by Betty Kort, FREE • Grand Island Public Library, Grand Island, NE
Nov 26 — A Pittsburgh Playlist: Celebrating Willa Cather at 150 , 7:00-8:30 p.m. •  Academics and scholars from regional universities will read selections from Cather's fiction, journalism, and letters written or set in Pittsburgh between 1896 and 1929 • Birthday cookies will be served! •  Carnegie Library, Pittsburgh, PA
Nov 28 — Willa Cather Phi Beta Kappa Induction, 4:00 p.m. • The University of Nebraska–Lincoln Chapter of the Phi Beta Kappa honor society and the Cather Project are partnering to induct the late Willa Cather as an honorary member of Phi Beta Kappa • Featured remarks from Carson Vaughan: freelance writer, UNL alum, and PBK member •UNL's Love Library,  Lincoln, NE
Dec 2, 9, 16, 23, & 30 (and Dec 7) — Celebrating Cather at 150: Guided Holiday Tours departing from the National Willa Cather Center each Saturday in December, and on Willa Cather's 150th birthday on December 7 • Red Cloud, NE • Reservations required
Dec 7 — O Pie-and-Beers!, The Beer Hall, Zipline Brewing Company, Lincoln, NE • Sponsored by the Cather Archive 
Dec 7 — Benjamin Taylor Book Launch & Reading for Chasing Bright Medusas: A Life of Willa Cather (to be published on November 14), 7:00 p.m. CT • Virtual ticketed event at the National Willa Cather Center, Red Cloud, NE
Dec 12 — Reading Willa Cather: A Sesquicentennial Celebration, 7:00 p.m. • This evening of brief selections from Cather's fiction and letters will bring to life her uniquely American prose. With readings by actors Linda Bisesti and Matthew Reidy • Boston Athenaeum, 10 1/2 Beacon Street, Boston, MA
Past Events

 

PAST EVENTS

Feb 17 — Kearney Library, Kearney, Nebraska: 12:00 p.m. — Rachel Olsen, Director of Education & Engagement, will present "Willa on Wheels: Cather's Characters Travel from Page to Stage" on the adapted texts utilized in the writing of the play, Henrietta Solway, which was commissioned by the National Willa Cather Center and is being performed throughout Nebraska in 2023.
Feb 24–25 — Animal Engine Theater presents Henrietta Solway, Lied Center, Lincoln, NE
Feb 28 — University of Montana Lit 494 Capstone, Tracy Tucker, Director of Collections & Curation, to guest lecture on Authors & Archives
March 1–3 — Animal Engine Theater presents Henrietta Solway in Red Cloud, Kearney, and McCook, NE
April 1-30 — Centenary celebration on our social media channels of April Twilights & Other Poems (1923) throughout National Poetry Month
Apr 22 — Los Angeles Times Festival of Books (University of Southern California), Willa Cather Sesquicentennial Celebration presented by the Willa Cather Foundation, 5:40-6:00 p.m. • Poetry Stage
Apr 23 — World Premiere of Songs of Correspondence for mezzo-soprano and string quartet; from the letters of Willa Cather, commissioned by the Cather Archive and Cather Project at University of Nebraska-Lincoln, FREE, 3:00-5:00 p.m. • Ethel S. Abbott Auditorium, Sheldon Museum of Art.
May 9 — Cathedral Arts Project discusses One of Ours with Tracy Tucker, Director of Collections & Curation, 7:00 p.m. • Omaha, NE [Live-streamed on YouTube]
June 1–3 — 68th Annual Willa Cather Spring Conference, Red Cloud, NE
June 7 — Congressional Statue Dedication Ceremony in honor of Willa Cather of Nebraska, 11:00 a.m. • National Statuary Hall, United States Capitol
June 21–23 — 18th International Cather Seminar, New York, NY
July 6-10 — The National Willa Cather Teacher Institute, Red Cloud, NE
Aug 11 — Amos Fortune Forum Lecture: Willa Cather as Creator: Breaking the Mold and Carving a Place in History, with Littleton Alston and Ashley Olson, FREE, 8:00 p.m. • Jaffrey Meetinghouse, 15 Laban Ainsworth Way, Jaffrey, NH 03452 [Live-streamed on YouTube]
Sept 27 — Symphony Space — Selected Shorts: Ken Burns Presents Willa Cather's America, 7:00 p.m. ET • In-person and live stream ticket options available • Peter Jay Sharp Theatre, 2537 Broadway at 95th Street, New York, NY 10025. • With performances by Patricia Clarkson, David Strathairn, and Sonia Manzano. [Co-sponsored by the Willa Cather Foundation and an official 2023 Brooklyn Book Festival Bookend Event.]
Oct 12 — Meet the Artist: Littleton Alston, 6:30 p.m. ET • Museum of the Shenandoah Valley, Winchester, VA • Ticketed
Oct 14–15 — Celebrate Willa Cather's 150th birthday at Old Time Autumn • Brownville Historical Society, Brownville, NE • Tickets purchased separately for performance, meal, and river cruise.
Oct 15 — How to Tell a War Story: Hemingway & Cather with Tracy Tucker, director of collections and curation, NWCC • 6:00-7:00 p.m. • Joslyn Castle & Gardens, Omaha, NE 
Oct 15–29 — Inaugural Willa Cather Residency in Red Cloud, NE
Oct 19 — Reading Cather at 150: A Virtual Study Series with Benjamin Taylor on Death Comes for the Archbishop • Virtual
Oct 20 — UNL Opera presents O Pioneers!, 7:00 p.m. • Red Cloud Opera House, Red Cloud, NE
Oct 21 — Reading Willa Cather, 7:00 p.m. ET • Readings by actors Mary Stuart Masterson and Jeremy Davison, with musical performances by Hailey McAvoy (mezzo-soprano) and Jonathan Lawlor (baritone) • Kaatsbaan Cultural Park, Tivoli, NY
Oct 22 — Willa Cather: Life & Literature, 3:00-4:00 p.m. ET • Explore the intersections between Willa Cather's life and literature in this special presentation by Ashley Olsen, executive director of the National Willa Cather Center • Museum of the Shenandoah Valley, Winchester, VA
Oct 24 — Member's Room—Reading Willa Cather: A Sesquicentennial Celebration, 6:00 p.m. ET [Also livestreamed] • The celebration will include short readings from Cather's fiction and letters and will also include a reading of Truman Capote's unfinished reminiscence of his chance meeting with Willa Cather at the New York Society Library in 1942 • With actors Deanne Lorette, Steve Routman, and NWCC Board of Governors member, Peter Cipkowski • New York Society Library, New York, NY
Oct 28 — Reading Willa Cather: a 150th Birthday Celebration, 2:00-4:00 p.m. ET, with Peter Cipkowski, NWCC Board of Governors member, and readings by Boston-area actors • Tufts Library, Weymouth Public Libraries, Weymouth, MA
Oct 29 — Willa Cather and Material Culture Exhibit Opening Reception & Willa Cather Statue Dedication • Exhibit featuring  photographs by Betty Kort,  2:00 p.m. • Featuring reveal of artist Littleton Alston's statuette of Willa Cather, a recent gift to the library where it will be permanently displayed in the rotunda •  Grand Island Public Library, Grand Island, NE
Through Nov 4 — Cather and Material Culture—a Sesquicentennial Reflection, an exhibition by Betty Kort, on display at the National Willa Cather Center's Red Cloud Opera House, Red Cloud, NE
Nov 8 & Nov 12 — Cather's Santa Fe: A Walking Tour, 1:00-3:30 p.m. MT, Santa Fe, NM
Nov 9 — Celebrate the Achievements of Willa Cather and her 150th Birthday with Robert Thacker, president of the Willa Cather Foundation Board of Governors, 7:00 p.m. • Pourde River Public Libraries, Harmony Library, Fort Collins, CO
Nov 9-12 — Willa Cather and the Counterculture: An Immersive Weekend in Taos, New Mexico. An immersive program back by popular demand and sponsored by the National Willa Cather Center in Taos, NM (reserve by October 9)